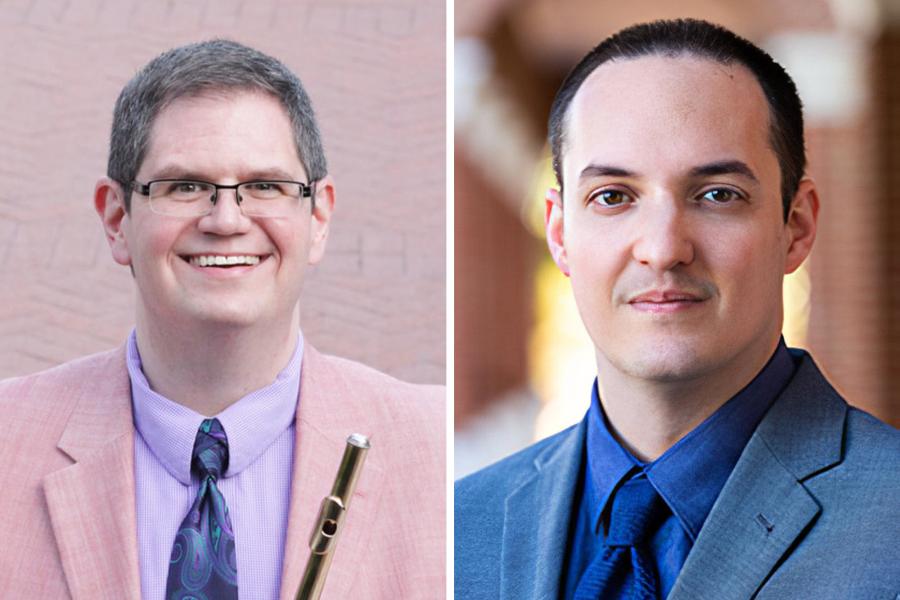 About the Artists
Timothy Hagen is an internationally acclaimed performer, composer, scholar, and educator. His flute playing has been praised for "technical virtuosity and musical sensitivity" (NewMusicBox) and "real flair" (The Well-Tempered Ear), and he has been a prizewinner at multiple major flute competitions, including the Myrna Brown Artist Competition (First Prize and Best Performance of the Commissioned Composition), Australian International Flute Competition (Second Prize), and Pasadena Showcase House Instrumental Competition (Jack Smith Award for Most Promising Talent). As a soloist, Hagen has appeared in concert at New York's 92nd Street Y and Lincoln Center in addition to multiple concerto performances with the Missouri Symphony. He is Principal Flute of the Dubuque Symphony and was Principal Flute of the Missouri Symphony from 2009-2016. Additionally, he has performed with orchestras across the country, including the Minnesota Orchestra, San Antonio Symphony, Eugene Symphony, Symphony of Northwest Arkansas, and Dallas Wind Symphony. His experience as a chamber musician includes fellowships at the Norfolk Chamber Music Festival and Atlantic Music Festival.
In addition to his experience as a performer, Dr. Hagen's compositions are performed by professional musicians across the country and have frequently won prizes from the National Flute Association (USA) since 2018. Both his music and his pedagogical writings are published under the Owl Glass Music imprint, and his scholarly work has appeared in the journals of the National Flute Association and British Flute Society.
As an educator, Dr. Hagen has worked with all ages and experience levels, having served on the music faculties of the University of North Carolina-Greensboro, University of Wisconsin-Madison and Oklahoma State University, in addition to significant experience as a teaching artist and workshop facilitator with esteemed institutions such as the Los Angeles Philharmonic, Lincoln Center Education, and Dallas Symphony. His students have found success as performers, collegiate and private flute instructors, public school teachers, historians, and scientists. He is forever indebted to his teachers, including Marianne Gedigian, Jim Walker, Philip Dunigan, Renée Siebert, Tadeu Coelho, Chelsea Czuchra, Felicia McNaught, and Tina Ballard.
Dr. Ben Corbin maintains an active schedule as a pianist, chamber musician, teacher, and lecturer. Competition prizes include top prize in the Phi Beta Music Competition, 1st place in the OMTA Piano Competition, and 2nd Place in the Coeur d'Alene Symphony Young Artists' Competition. He has been featured on classical radio KMFA in Austin, TX (2014) and has been described as an "incisive" pianist by the Colorado Springs Gazette (2013). In December 2018, Ben performed at Taiwan's National Concert Hall alongside clarinetist Dr. Winnie Fan, principal of the Round Rock Symphony Orchestra. Ben has been a featured soloist with the Hampton Roads Philharmonic, the Chesapeake Bay Wind Ensemble, the Virginia Symphony Chamber Orchestra, the University of Oregon Symphony Orchestra, and the Christopher Newport University Wind Ensemble. He has served as principal keyboardist with the Oregon Mozart Players, the Eugene Symphony, Eugene Opera, Brazos Valley Symphony Orchestra, The Colorado College Music Festival Orchestra under the baton of Scott Yoo, and The University of Texas Wind Ensemble under the direction of Jerry Junkin. As a vocal coach, Ben has held staff positions with Eugene Opera, the Butler Opera Center, the University of Oregon Opera Ensemble, and the John G. Shedd Institute for the Arts. He was also invited as a Faculty Artist for the Torggler Summer Vocal Institute in 2017 and 2019, and has been a featured performer at the Cascadia Composers Festival in Portland, Oregon. Ben was awarded full scholarships in Collaborative Piano to attend the Colorado College Summer Music Festival in 2013 and the Brevard Summer Music Festival in 2014 where teachers included Jon Nakamatsu, William Wolfram, and members of the Ying String Quartet. He has also performed for a number of masterclass clinicians including John Perry, Anne Marie McDermott, Warren Jones, Margo Garrett, John Kamitsuka, Joseph Alessi, Steve Doane, James Ehnes, Lynn Harrel, and Noah Bendix-Balgley.
Dr. Corbin received the Bachelor of Music and Master of Music degrees in Piano Performance from the University of Oregon where he studied with Dean Kramer and David Riley. He also received a second Master of Music and the Doctorate in Musical Arts in Collaborative Piano from The University of Texas at Austin, studying with Anne Epperson. While at the University of Oregon, he was awarded Outstanding Undergraduate Performer, Keyboardist, and Collaborative Pianist in 2009, as well as the Outstanding Collaborative Pianist award in 2012. He also was the recipient of the Mary Elizabeth Sherrill Presidential Endowed Award in Music from 2014-2016. As a lecturer, he has presented at the Peninsula Music Teachers Association, the Appomattox Governor's School, and the University of Texas at Austin. He has also served as a member of the collaborative piano staff at the Meadowmount School of Music in upstate New York and in August of 2019, was a guest artist in collaborative piano at the Second International Clarinet Festival of Panamá. Dr. Corbin is currently Assistant Professor of Piano and Collaborative Arts at Christopher Newport University, where he also serves as the Director of Keyboard Studies.
Event Details
Free Admission
There are no accessible seating options in the Recital Studio.
Event Types
Chamber Music
Free Admission
Keyboard
Winds & Percussion