Music Recital Hall Building
The sheer size of campus and the number of people and cars that visit daily can make parking on or near campus a challenge. Give yourself ample time for parking.
There is no free visitor parking anywhere on campus. 
Whether you are a prospective student visiting the Butler School, or attending a concert, you can use the information below to plan your visit. 
ADA & Handicapped Parking
Handicapped parking spaces are located in the San Jacinto Garage. There are also ADA spots along Trinity Street that are free after 5:45 pm on most days.  ADA spaces on campus require a government-issued permit at all times. 
Visit Parking and Transportation Services for more information on parking for visitors with disabilities. 
---
Garages
Garages are open 24/7
The university recommends that all campus visitors park in a campus garage.
San Jacinto Garage
2401 San Jacinto Blvd.
Closest garage to the Butler School
Enter from Trinity or San Jacinto  
ADA spaces available
Credit cards accepted • CHECK RATES
Special event pricing is sometimes in effect 
---
Manor Garage
2017 Robert Dedman Dr.
10-minute walk to the Butler School 
Enter from Clyde Littlefield Dr.  
Credit cards accepted • CHECK RATES
Special event pricing is sometimes in effect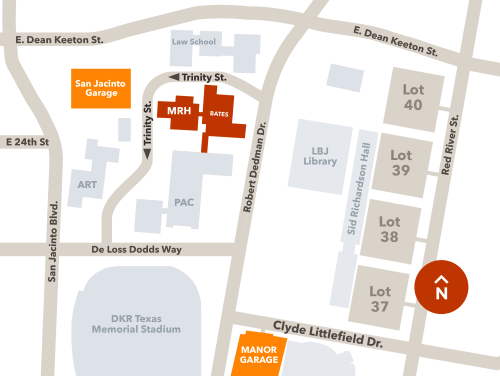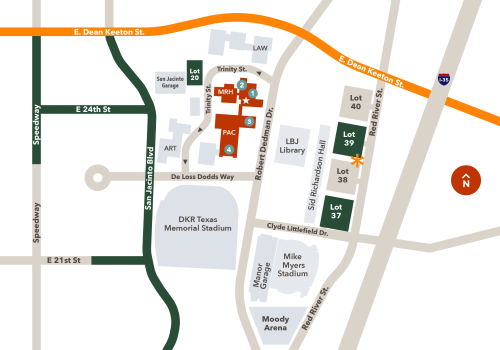 Surface Parking
All street and surface parking lots on campus require a university permit 24 hours a day, 7 days a week. Parking in these locations without a university or Click & Park permit, even for a short period of time, may result in a citation.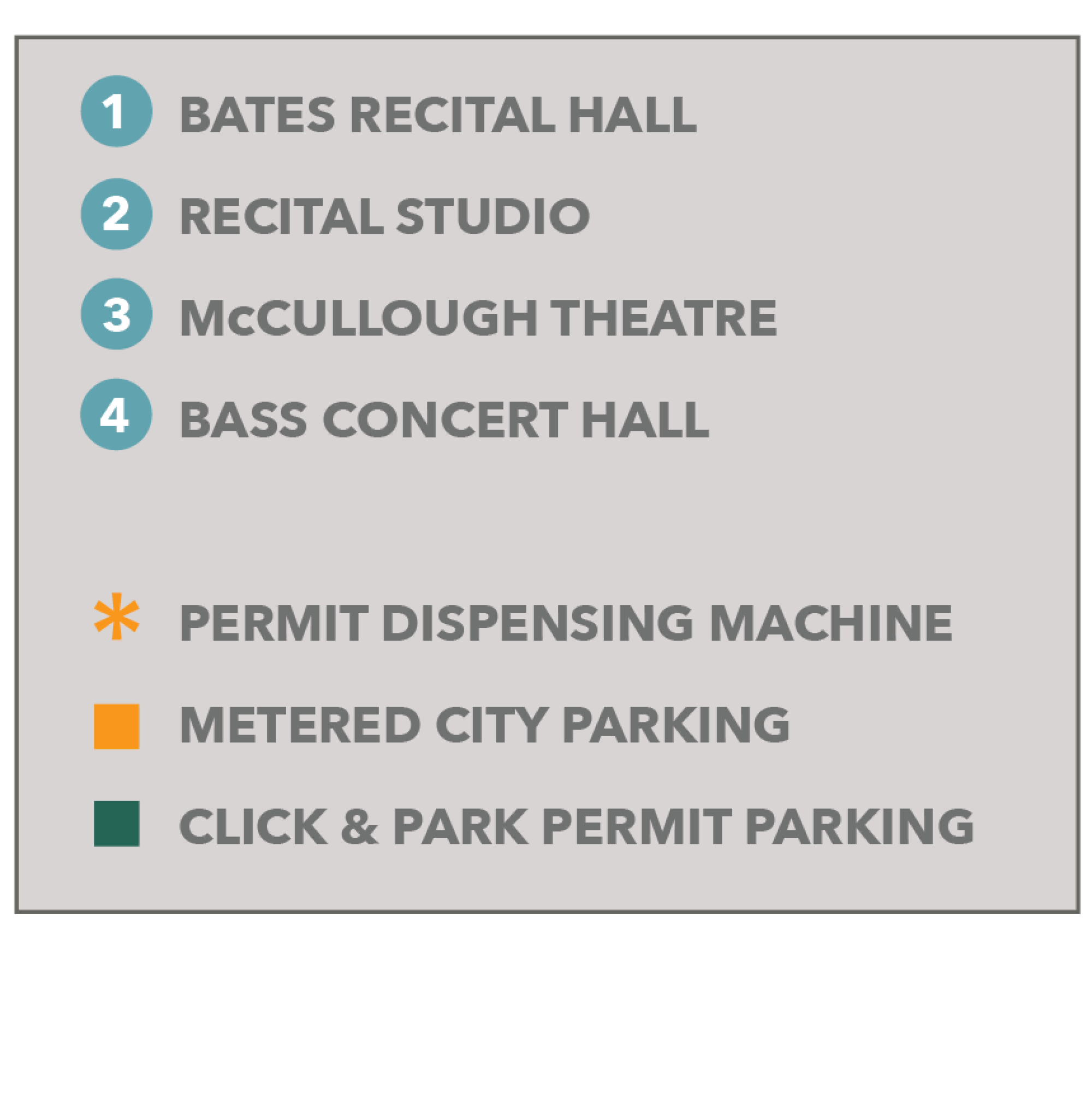 Pre-Paid Event Parking
Purchase parking in advance for Butler School of Music events. 
$15 pre-paid parking is available for events at the music building or McCullough Theatre
Parking must be purchased online by 10 PM the day before the event.
Print permit prior to arrival and place on dashboard.
Parking is subject to availability. All pre-purchased permits are non-refundable, even if the event is canceled.
Same-Day Temporary Event Permits
Patrons can purchase a permit for any surface from a permit-dispensing machine located between Parking Lots 38 and 39 on Red River St., behind the Lyndon B. Johnson Library. Permits issued from this machine are valid for the event day only and for any UT surface parking spaces (with the exception of lots 38 & 40, permit parking designated F99 or O, and metered parking spaces).
Metered Parking
A limited amount of City-of-Austin metered parking is available along Dean Keeton Street near the intersection of Robert Dedman Drive. Meters are not enforced after 6 PM Monday through Saturday or all day Sunday.