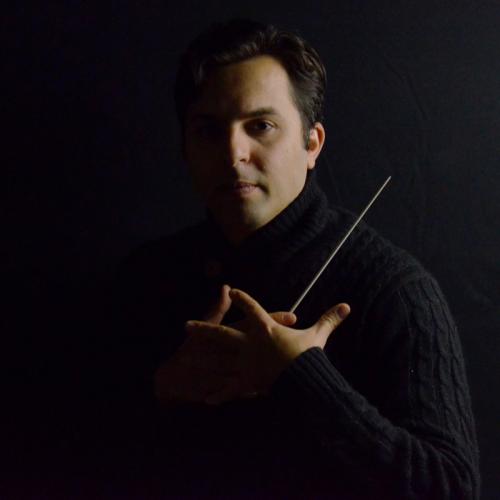 Music Director, Symphony Orchestra
Assistant Professor of Music in Orchestral Studies
Described by the critics as "magician on the podium" (Performing Arts Monterey Bay), with "the ability to connect with invisible worlds and to bring them alive in the music" (Herald), Farkhad Khudyev, has been recognized by the government of the United States as an Artist of Extraordinary Ability.
Mr. Khudyev is the winner of the Gold Medal "Beethoven 250" Special Prize at the 1st International Arthur Nikisch Conducting Competition; the Solti Foundation US 2018 Career Assistance Award; the Best Interpretation Prize at the 1st International Taipei Conducting Competition in Taiwan; the 3rd prize at the 8th International Sir Georg Solti Conducting Competition in Germany;  the 1st Prize at the Yale Chamber Music Society Competition; and the Gold Medal and Grand Prize at the 2007 National Fischoff Chamber Music Competition in the US.
He has worked with orchestras worldwide including the London Philharmonic Orchestra, Frankfurt Radio Symphony Orchestra and Frankfurt Opera Orchestra of Germany, Danish National Symphony Orchestra of Denmark, Seattle Symphony, Dallas Symphony, Los Angeles Philharmonic, San Diego Symphony, Monterey Symphony, Yale Philharmonia, George Enescu Philharmonic Orchestra of Romania, Xi'an Symphony Orchestra of China and the State Taipei Chinese Orchestra of Taiwan.
Farkhad Khudyev was born in Ashgabat, Turkmenistan, where he first studied violin, piano and composition at the State Music School for gifted musicians, and then completed his studies in the United States at Interlochen Arts Academy, Oberlin Conservatory and Yale University.
Mr. Khudyev has served as the Music Director of New Jersey Intergenerational Orchestra, New Haven Chamber Orchestra and Youth Music Monterey County, as well as the Associate Conductor of the Hidden Valley Opera and the Assistant Conductor of the London Philharmonic Orchestra. Currently, Mr. Khudyev serves as the Music Director of the University of Texas Symphony Orchestra and the Assistant Professor of Music in Orchestral Studies at the University of Texas at Austin, as well as the Music Director of the Orchestral Institute at the Hidden Valley Institute of the Arts in Carmel, California.
ENS 102S/ENS 182S 
Symphony Orchestra
ENS 102U/ENS 182U 
University Orchestra  
Conducting Lessons - Orchestra
Contact Information
Campus location
MRH 4.190
Ensembles
Teaching Areas
Conducting
Education 
Master of Music
Yale University
Bachelor of Music  
Oberlin Conservatory