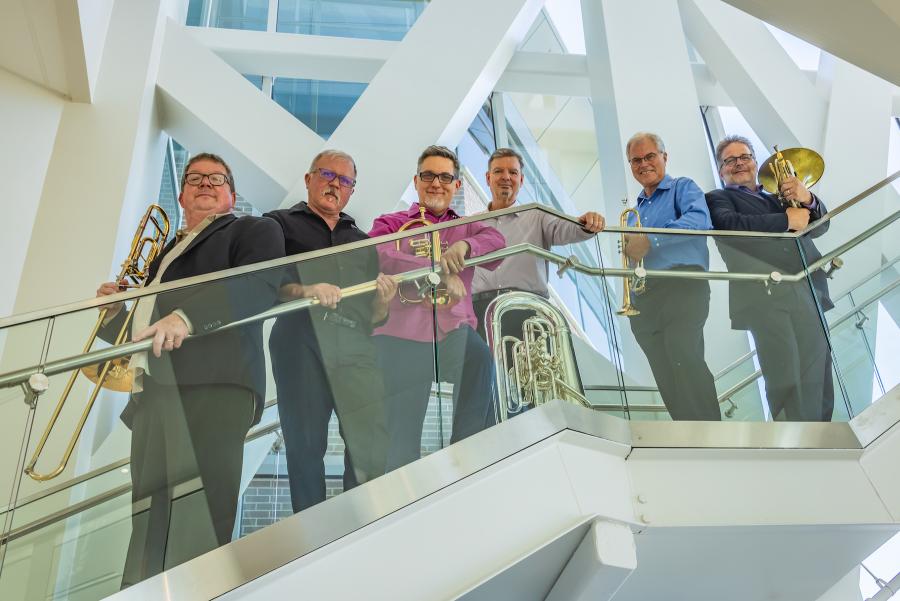 The 2023-24 season marks the 30th anniversary of the founding of Rhythm & Brass. This conversation with Charles Villarrubia, Professor of Tuba and Euphonium at the Butler School of Music, has been lightly edited for clarity. 
For 23 years, the group toured extensively throughout the United States, Canada, Mexico, Japan, Australia, Thailand, and the Middle East. And now, after a seven-year hiatus, they are celebrating their musical and creative camaraderie by coming together to revisit old classics while simultaneously exploring new musical directions. The group includes Charles Villarrubia, Professor of Tuba and Euphonium, as well as Wiff Rudd, Rex Richardson, Alex Shuhan, Tom Brantley, and David Gluck. 
The Rhythm & Brass 30th Anniversary Concert is on Sunday, Sept. 17 at 4 p.m. Find more event details here. 
---
When and how did Rhythm & Brass form? 
It came about not necessarily as a group of people having an identical musical concept — a lot of times groups are like, this is the sound, this is the music we listen to, this is what we're influenced by — but it came from a group of people whose musical interests were wildly divergent. 

I always loved listening to old music — the Flemish composer Josquin des Prez or Johann Sebastian Bach. One of our trumpeters was really into John Coltrane. The drummer loved Radiohead at the time. So we're sitting down figuring, how on Earth are we going to try to get these wildly divergent musical interests in the same concert hall, at the same time, and have it make any kind of sense? 

And then we ran across an old quote by the great American musician and composer Duke Ellington: "There are two types of music. Good music and bad music."

That quote really resonated with us, and it helped us have a unifying idea of what this thing called Rhythm & Brass was going to be. We just picked music that we thought was good. Thirty years later, many continents later, and a lot of miles later, we're still doing that same wacky idea of combining all these influences.  

Do you think that approach allowed the group to have space to evolve and try new things because you're not trying to be limited by a certain style? 
The answer is a resounding yes. At a certain point, the logical next step for us wasn't recreating other people's music through our own prism, but to do our own music. Shortly after we formed, three people in the group started writing for us, for this idea that we had, and now a decent part of every performance is presenting our own compositions. 

What's the story behind the video you recorded? Where was it filmed? 
We were doing a week-long engagement in Fayetteville, Arkansas, at the University of Arkansas. David Gluck, our percussionist and drummer, started having these ideas of this promotional video we should put together. Dave and the youngest son of one of our trumpeters, Wiff Rudd, who teaches trumpet at Baylor University, started putting it together. 

They just told the rest of us, alright, we're going out to this field now and shooting this scene, and we're going to this guy's junkyard. We shot in various areas around Fayetteville. It's old now, but I think it still is a fair representation of the outside thinking and extroverted musical personality of the group.  

How does it feel to come back together after such a long hiatus?
We're all kind of like brothers. When we get on the road and when we get on a call, it doesn't matter how long it's been since we've seen or heard from each other,  we get right back to where we left off.
One of my mentors in the musical world was a phenomenal tuba player named Samuel Pilafian. And Sam always told me: remember that the music business is a business of music, but it's more a business of people. And I think that's really exemplified with my friends and colleagues in Rhythm & Brass because we're very close. Any one of the guys would do anything for each other. 
So seven and a half years, it feels like it's been an eternity in one way. But in another way it just feels like it was yesterday.  
What can people expect from the concert? 
Expect the unexpected. I know that's kind of a kitschy way of putting it, but, you know, it really is true for us. This is going to be all over the map and very intentionally so. 
We're trying to channel all these disparate influences with an energy over two hours that brings the listener to all these different musical stops along the way. The whole thing will end with a confluence of the music of Pink Floyd, music from The Wizard of Oz, and the quotes from the David Lynch movie Wild at Heart. 
Anybody can enjoy this concert. There's an open door policy in more ways than one way here. So bring your family, bring your friends, and have fun.