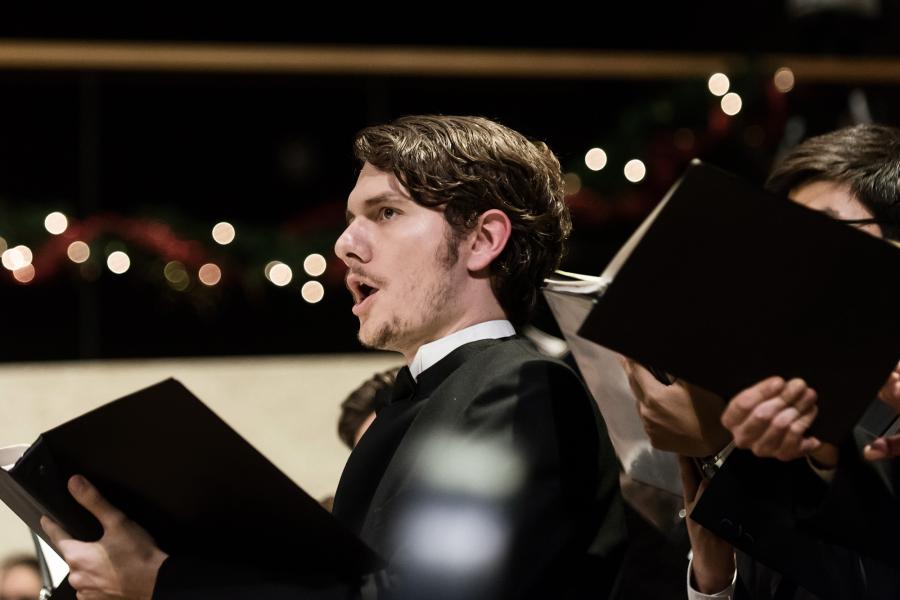 Concert Chorale




University Chorus




University Orchestra
J.D. Burnett, conductor
Suzanne Pence, conductor
Cody Parrott, guest conductor
Choongwoo Steve Ko, guest conductor
Chris Vineis, guest conductor
Michael Follis, guest conductor
Ke Yuan Hsin, guest conductor
---
Program
arr. Paul Wohlgemuth
Of the Father's Love Begotten
arr. Lara Hoggard
Personent Hodie
arr. LeRoy Anderson
A Christmas Festival
arr. Herbert Fromm
Hannuka Madrigal
arr. Betty Bertaux
S'vivon
arr. Sarah Quartel
The Endris Night
arr. Stacey Gibbs
Hold Out Your Light
Felix Mendelssohn
Weihnachten
Anton Bruckner
Virga Jesse
arr. Randol Bass
A Feast of Carols
arr. Alice Parker & Robert Shaw
Ya viene la vieja
Masters in This Hall
Fum Fum Fum
Pyotr Ilyich Tchaikovsky
"Trepak Dance" from The Nutcracker
arr. Gary Fry
O Holy Night / Bless Us All
There will be some tunes for the audience to sing along with as well!
---
Event Details
$10–30
Seating is unassigned. If you are a patron with ADA needs, please email tickets@mail.music.utexas.edu and we will reserve ADA seating for you. All University of Texas at Austin students are allowed one free ticket as long as they are available. Student tickets must be picked up at the Box Office with valid student I.D.
*Important note on Streaming.  This concert will be live streamed on Sunday, December 4 only.  
Event Types
Orchestra
Streamed Online
Vocal Arts