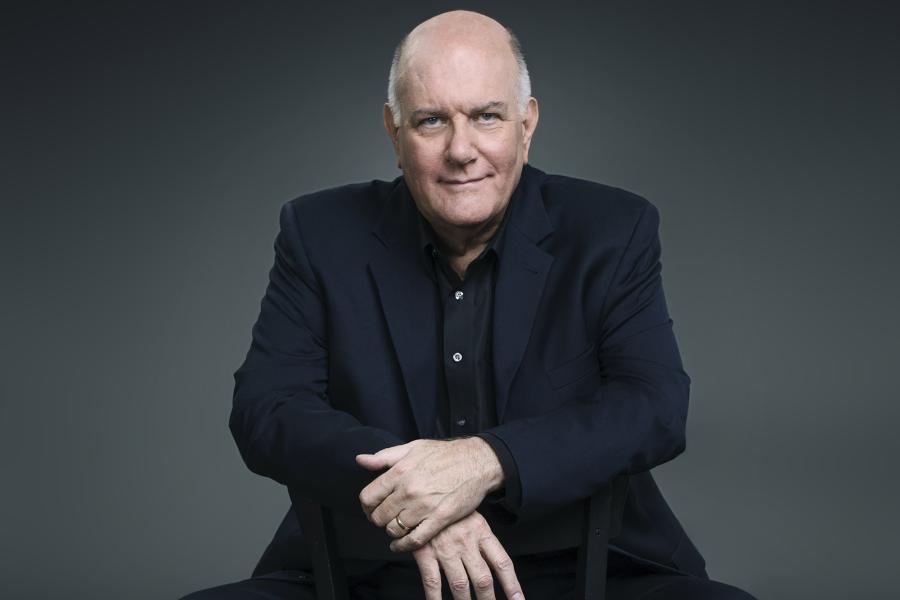 About Jim McNeely
Jim McNeely's reputation as a composer/arranger and conductor for large jazz ensembles continues to flourish and has earned him nine Grammy nominations. His work includes projects with the Danish Radio Big Band (where he was chief conductor for five years), the Carnegie Hall Jazz Band, the Metropole Orchestra (Netherlands), the Swiss Jazz Orchestra (Bern/Zürich), WDR Big Band (Cologne), and the Stockholm Jazz Orchestra. He is currently artist-in-residence with the HR Big Band (Frankfurt). In 1996 he rejoined the Vanguard Jazz Orchestra as pianist and composer in residence. His latest album with them is Up from the Skies, on the Planet Arts label. The New York Times has called his writing "exhilarating." DownBeat has said that his music is "eloquent enough to be profound."
Born in Chicago, Jim McNeely moved to New York City in 1975, having received a Bachelor of Music degree in composition from the University of Illinois. In 1978 he joined the Thad Jones/Mel Lewis Jazz Orchestra. He spent six years as a featured soloist with that band and its successor, the Mel Lewis Jazz Orchestra (now the Vanguard Jazz Orchestra). In 1981 Jim began his four-year tenure as pianist/composer with the Stan Getz Quartet. From 1990 until 1995 he held the piano chair in the Phil Woods Quintet.
At the present time, he leads his own tentet and trio and appears as guest soloist at concerts and festivals worldwide. Jim has recorded a number of albums—trio and quartet—under his own name. He has also appeared as a sideman on numerous recordings led by major artists such as Thad Jones, Mel Lewis, Stan Getz, Bob Brookmeyer, David Liebman, and Phil Woods. He is Musical Director of the BMI Jazz Composers' Workshop.
In addition, he has appeared at numerous college jazz festivals as performer and clinician and has been involved regularly with summer workshops such as the Jamey Aebersold Summer Jazz Clinics, the Lake Placid Seminar in Jazz Improvisation, and the William Paterson University Summer Jazz Workshop. He has also conducted clinics and had major residencies at dozens of institutions in the U.S., Canada, Europe, China, and Australia. Jim McNeely has been a member of MSM's Jazz Arts faculty since 2008.
---
About John Mills
John Mills has enjoyed a long career as a composer/arranger and recording saxophonist across a wide spectrum of jazz and other musical genres.
John has performed in concert with such jazz luminaries as Maria Schneider, Kenny Wheeler, Carla Bley and Steve Swallow, R&B icons including Jimmie Vaughan, Dr. John, Ray Charles and Aretha Franklin, and such popular music stars as Paul Simon, Nora Jones, James Taylor and Bonnie Raitt. He has also scored orchestral arrangements for such diverse artists as Asleep at the Wheel, Rosanne Cash, Indigo Girls and David Byrne.
Mills has appeared on numerous Austin City Limits PBS television broadcasts over the years, including performances with Ray Benson, Willie Nelson and Lyle Lovett, and composed the opening theme for one of that popular series' early seasons. He participated in Grammy-nominated Contemporary Blues recordings by Jimmie Vaughan (2020) and Ruthie Foster (2021).
John has produced three CDs for Fable Records under his own name: Caffeine Dreams, Invisible Designs and Flying Blind, all of which feature exclusively his original compositions. He was awarded First Prize in the 2008 ArtEZ Jazz Composition in the Netherlands, ISJAC's  2019 SONIC Award for Best Big Band Composition and Third Prize in the 2019 Enno Linnovalli Jazz Composition Contest in Helsinki, Finland.
John Mills is also long-time baritone saxophonist and songwriter for The Texas Horns, who have recorded on numerous acclaimed recordings in the blues genre, and have appeared at major festivals coast to coast in the U.S as well as in Canada and Europe. He and his fellow members of The Texas Horns were named 2020 Horn Players of the Year by Living Blues Magazine.
Mills has given masterclasses in countries including Italy, Germany, Russia, Denmark, Slovenia, Canada, Guatemala and Chile.
---
About the Symposium
The ISJAC International Jazz Composers' Symposium is a bi-annual conference that brings hundreds of jazz composers, arrangers, educators, and industry executives together for three days of concerts, lectures, panel discussions, and the presentation and honoring of new jazz compositions and arrangements. The Symposium is known as a robust, yet intimate gathering of the world's finest jazz writers. As a central tenet of the ISJAC mission, the Symposium seeks to unite, develop, and electrify the our global community of jazz arrangers and composers.
---
Event Details
If you'd like to see all three ISJAC concerts May 12–14, purchase an ISJAC subscription package for 30% off!
Seating is unassigned. If you are a patron with ADA needs, please email tickets@mail.music.utexas.edu and we will reserve ADA seating for you. 
Due to limited tickets available to the general public for this concert, no comp tickets will be distributed. 
All registered symposium attendees will receive tickets in their registration packets. 
We will not be reducing audience capacity for ISJAC events. We strongly encourage all attendees to follow CDC recommendations to protect themselves from COVID-19.