The University of Texas Trombone Choir was founded in the fall of 1977 by professor emeritus and trombone legend Donald Knaub. It serves as a laboratory extension of the trombone studio. The group tours regionally, nationally, and internationally, and performs regularly in the Austin area.  Members of the  trombone studio have a strong tradition of excellence by consistently winning prizes in international, national, and local solo competitions; and, upon graduation, securing important post in performing organizations and educational institutions. Over the years, members of the trombone studio have performed for visiting dignitaries, several Texas Governors, and a U.S. President. The award-winning University of Texas Jazz Bones is a smaller subset of the larger Trombone Choir.
Join
Students interested in joining the Trombone Choir should contact Nathaniel Brickens.
---
Course
UNDERGRADUATE ENS 109T 
GRADUATE ENS 189T
T-Th, 12:30–2p  
MRH 2.118
---
Follow
Watch
Each year, the UT Trombone Choir plays an informal holiday concert, typically on UT's campus. The songs are conducted by students, and all the choir's members are included, from doctoral students to undergraduate freshman who enjoy the opportunity to spread holiday cheer.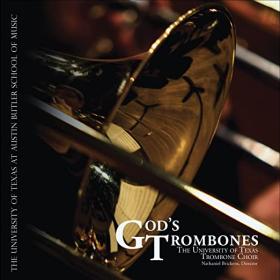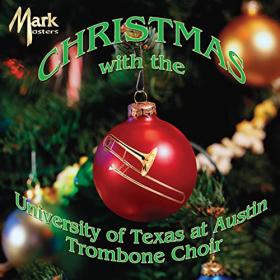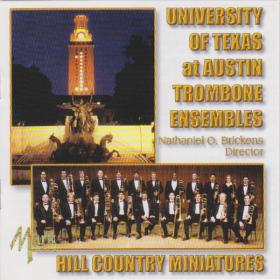 Hill Country Minatures
Music of Cheetham, Bruckner, Greig, Faure, Lawn, Weiner
Mark Recordings 
currently unavailable
Appearances
International Trombone Festival, Columbus, GA
2021
International Trombone Festival, Redlands, CA
2017
International Trombone Festival, Valencia, Spain
2015
International Trombone Festival, Paris, France
2012
Eastern Trombone Workshop, Washington DC
2009
2006
2002
Kennedy Center, Washington DC
March, 2006
Brazilian Trombone Festival
2004
Tours
Denmark, 2014
Aarhus
Copenhagen
Europe, 2012
France
Switzerland
Germany
Brazil, 2004
Rio de Janeiro
Sao Paulo
Porto Alegre
Switzerland, 2022 (upcoming)
Zurich & Other sites TBA
Accolades
Remington International Trombone Choir Competition
2019 Runner-up
2017 Runner-up
​​​​​​​2014 Runner-up
2007 Winner
2002 Winner
Kai Winding Jazz Trombone Ensemble Competition
2007 Winner
2001 Winner
(Jazz Bones)
ETW Jazz Trombone Ensemble Competition
2007 Winner 
(Jazz Bones)