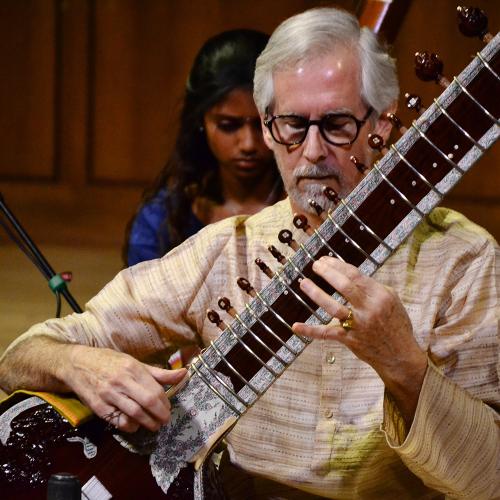 Professor of Ethnomusicology
Core Faculty Affiliate of the South Asia Institute
Specializing in the musical traditions of South Asia with secondary interests in Southeast Asian music and American popular music, Stephen Slawek's  publications draw upon extensive field experience and personal studies of performance practice in India. Professor Slawek has served on the Council and as Second Vice-President of the Society for Ethnomusicology, as a member of the Board of the Society for Asian Music, as editor of Asian Music, the Journal of the Society for Asian Music, and as Chair of the Ethnomusicology Committee of the American Institute of Indian Studies. He also has served a total of ten years as Division Head of Musicology/Ethnomusicology. His publications have addressed various issues regarding the musical traditions of South Asia. A senior disciple of the late Pandit Ravi Shankar, he is an accomplished performer on the Indian sitar. Professor Slawek's course offerings range from undergraduate courses on Asian musical traditions and issues in popular music to graduate seminars addressing the history of and current issues in ethnomusicology. In addition, Professor Slawek directs the Indian Classical Music Ensemble and the Javanese Gamelan Ensemble and offers individual instruction on the musical instruments of those traditions. Over nearly the past four decades, Professor Slawek has added to the diversity of musicians presented by the Butler School by organizing numerous residencies and concerts that have featured visiting artists from the Middle East, Eastern Europe, Africa, Pakistan and India.
The Urge to Merge: Are Cross-Cultural Collaborations Destroying Hindustani Music?.  This Thing Called Music, edited by Victoria Lindsay Levine and Philip V. Bohlman. New York: Rowman and Littlefield (2015)
Ethnotheory. The SAGE International Encyclopedia of Music and Culture. (2019)
MUS 395
Writing about Music
MUS 284P
Practicum in a World Music Tradition
ENS 106J/ENS 186J
Javanese Gamelan Ensemble
ENS 106N/ENS 186N
North Indian Music Ensemble
UGS 303
The Beatles and Beyond
Contact Information
Campus location
MRH 3.202
Teaching Areas
Musicology & Ethnomusicology
Research Areas
Music of South Asia
Rock Music 
The Beatles
Education
Doctor of Philosophy
University of Illinois at Urbana-Champaign
Master of Music
Banaras Hindu University
Master of Arts
University of Hawaii at Manoa
Bachelor of Arts
University of Pennsylvania