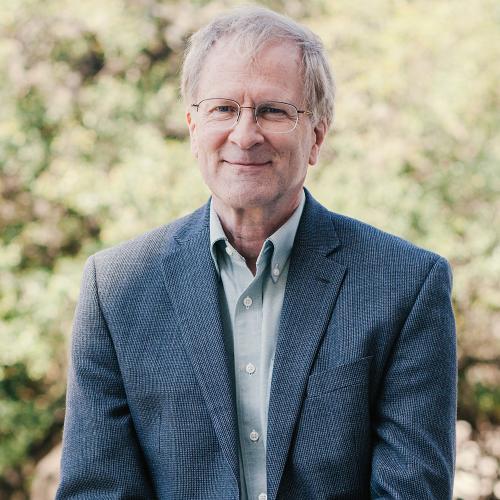 Marlene & Morton Meyerson Professor in Music Theory
Head, Division of Theory & Composition
ROBERT S. HATTEN is Marlene and Morton Meyerson Professor in Music at The University of Texas at Austin, where he has taught music theory since 2011. He has served as President of Society for Music Theory (2017-19) and President of the Semiotic Society of America (2008). Dr. Hatten's first book, Musical Meaning in Beethoven: Markedness, Correlation, and Interpretation (1994) was co-recipient in 1997 of the Wallace Berry Award from the Society for Music Theory. His second book, Interpreting Musical Gestures, Topics, and Tropes: Mozart, Beethoven, Schubert (2004) helped launch the book series "Musical Meaning and Interpretation" (Indiana University Press), for which he served as general editor until 2020, shepherding the publication of over 35 books by musicologists as well as theorists. His latest book, A Theory of Virtual Agency for Western Art Music, appeared in the series in 2018. His most recent articles, on music hermeneutics and on intersections of music semiotics with other disciplines, will appear in The Musical Quarterly and Open Semiotics, respectively. Illustration and performance at the piano inform his current research, including explorations of texture and expressive meaning in the Bach keyboard partitas, and enrichments of melos in two late nocturnes of Chopin. Dr. Hatten is also active as a librettist; one of his libretti served as the basis for his one-act opera, Compassion.
MUS 331J | 387L
Music and the Poetic Text
MUS 331J | 387L
Performance and Analysis
MUS 388T
Analytical Techniques
MUS 388S
Music Theory Seminar
(topics in music theory: Gesture; Virtual Agency; Emotion)
MUS 398T
Supervised Teaching in Music
BOOK
A Theory of Virtual Agency for Western Art Music. Bloomington, IN: Indiana University Press, 2018.
ARTICLES
"Fundamental Concepts for the Semiotic Interpretation of Musical Meaning: A Personal Journey," in The Routledge Handbook of Music Signification, ed. Esti Sheinberg and William P. Dougherty (2020).
 (with Eloise Boisjoli) "Topics," (invited encyclopedia entry) in The Cambridge Haydn Encyclopedia, ed. Caryl Clark and Sarah Day-O'Connell, 376-82. Cambridge: Cambridge University Press, 2019.
"The Voice in My Life," in Singing: The Timeless Muse: Essays on the Human Voice, Singing, and Spirituality, ed. Darlene Wiley, 90-109. Inside View Press, 2018.
Jérôme Dokic, Robert S. Hatten, Tim Ingold, Michel Kreutzer et Elizabeth Tolbert, « Comments on "Postures of listening" by Victor A. Stoichita and Bernd Brabec de Mori », Terrain, Lectures et débats, mis en ligne le 29 novembre 2018, consulté le 03 décembre 2018.  
"Thematische Gesten bei Schubert: Die Klaviersonaten in A-Dur, D 959 und a-Moll, D784," in Musik und Geste: Theorien, Ansätze, Perspektiven, ed. Katrin Eggers und Christian Grüny (Leiden: Brill-Gruppe, Wilhelm Fink Verlag, 2018), 269-98. 
"Troping of Meaning Penderecki's Credo," Teoria Muzyki 13 (2018), 11-23. [Paper originally presented in Houston, 2007, for a symposium, "Credo: The Arts as Expression Belief," organized by Prof. Ann K. Gebuhr]
"Staging Subjectivity as Spiritual Freedom: Beethoven's 'Emergent' Themes," in 
Utopian Visions and Visionary Art: Beethoven's 'Empire of the Mind'—Revisited, ed. William Kinderman (Vienna: Der Apfel, 2017), 75-88.
 
"Teaching Stravinsky from the Wennerstrom Anthology." Indiana Theory Review 33:1-2 (2017), 68-75.
"Musical Gestures and Virtual Agency," in Penser l'art du geste: en résonance entre les arts et les cultures, ed. Véronique Alexandre Journeau and Christine Vial Kayser (Paris: L'Harmattan, 2017), 37-50.
"Gesto Musical e Agenciamento Virtual," ("Musical Gesture and Virtual Agency," trans. by Zélia Chueke) Música em Perspectiva 9:2 (2016), 9-29.
"An Introduction to Virtual Agency in Music," in Virtual Identities: Semiotics 2015 (Yearbook of the Semiotic Society of America), ed. Jamin Pelkey and Stéphanie Walsh Matthews (Philosophy Documentation Center, 2016), 1-9.
"Reflections Inspired by a Response," Nineteenth-Century Music Review 13:1 (June 
2016), 35-8. Reply to Lorraine Byrne Bodley, "In Pursuit of a Single Flame? On Schubert's Settings of Goethe's Poems," Nineteenth-Century Music Review 13:1 (June 2016), 11-33 [Response to Hatten, "A Surfeit of Musics: What Goethe's Lyrics Concede When Set to Schubert's Music," Nineteenth-Century Music Review 5:2 (2008), 7-18].
(with Ann Gebuhr) "A Sea of Dreams Did Breathe on Me…: Songs of Reflection and Nostalgia," translated in Polish, Teoria Muzyki 7 (Krakow Academy of Music, 2016), 53-74. [on Penderecki's song cycle for the Chopin Bicentennial]
"Schubert's Alchemy: Transformative Surfaces, Transfiguring Depths," in Schubert's Late Music in History and Theory, ed. Lorraine Byrne-Bodley and Julian Horton (Cambridge: Cambridge University Press, 2016), 91-110. (Keynote from the 2011 International Conference on Late Schubert, Maynooth, Ireland)
"Reconceiving Analysis," International Journal of Musicology, New Series, vol. 2 (2016), 237-52. [article from IMS presentation on approaches to twentieth-century music]
 
Contact Information
Campus location
MRH 3.710
Teaching Areas
Theory 
Research Areas
Semiotics/Hermeneutics of Music and Musical Meaning: Gesture, Topics, Tropes, Virtual Agency, Emotion, Narrativity
18th–19th-century music: Bach, Haydn, Mozart, Beethoven, Schubert, Chopin, Brahms
Education
Doctor of Philosophy
Indiana University
Master of Music 
Indiana University
Bachelor of Music 
Baylor University