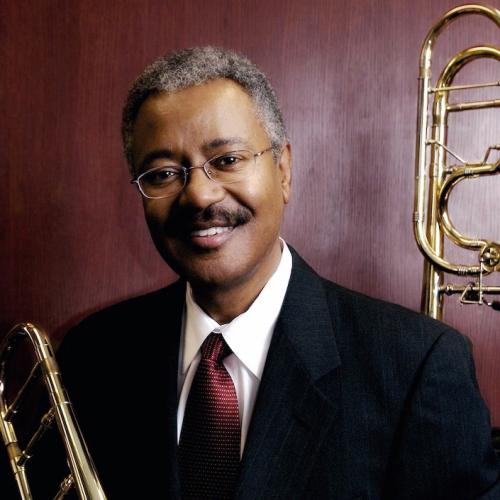 Professor of Trombone
Mary D. Bold Regents Professor in Music 
Director, UT Trombone Choir
Nathaniel Brickens is Mary D. Bold Regents Professor of Music at The University of Texas, where he teaches trombone and serves as director of the internationally-acclaimed UT Trombone Choir. In recognition of his teaching, he was the recipient of the 2019 International Trombone Association's (ITA) Humfeld Teaching Excellence Award, the College of Fine Arts Distinguished Teacher Award, a Dad's Association Centennial Teaching Fellowship, and a Texas Exes Excellence in Teaching Award. His students have won competitions sponsored by the ITA, the American Trombone Workshop, the Zellmer Minnesota Orchestra Trombone Competition, Big XII Conference, MTNA, Fort Worth Trombone Summit, etc.
As a free-lance trombonist, Brickens has performed with the St. Louis Symphony, the Kansas City Symphony, the Houston Symphony, Opera St. Louis, the Austin Symphony, the San Antonio Symphony, the Victoria Bach Festival, Ray Charles, Lena Horne, the Temptations, Andrea Bocelli, and with a wide variety of popular artists. He has toured nationally as trombonist in the Texas Opera Theater Orchestra (the touring arm of the Houston Grand Opera), the Paragon Brass Ensemble, and the Chicago-based Black Music Repertory Ensemble. He has performed on NBC's Today Show and on the stage of many of our nation's finest concert halls. Several concerts have been heard nationally on NPR and PRI broadcasts. Brickens is a vocal advocate for the trombone and an active member of the ITA.
He served as ITA President (2002-2004) and presided over meetings in Boston, Helsinki, and Ithaca (NY). An artist/clinician for Edwards Musical Instruments, he has performed at festivals in Argentina, Austria, Brazil, Denmark, Germany, Finland, Puerto Rico, Russia, and The Netherlands, and has conducted the UT Trombone Choir in concerts presented in Spain, France, Germany, Switzerland, Denmark, Brazil, and throughout the U.S. His teachers include Paul Adams, Glenn Smith, David Waters, and Donald Knaub.
Applied Trombone
Trombone Choir
Contact Information
Campus location
MRH 5.258
Ensembles