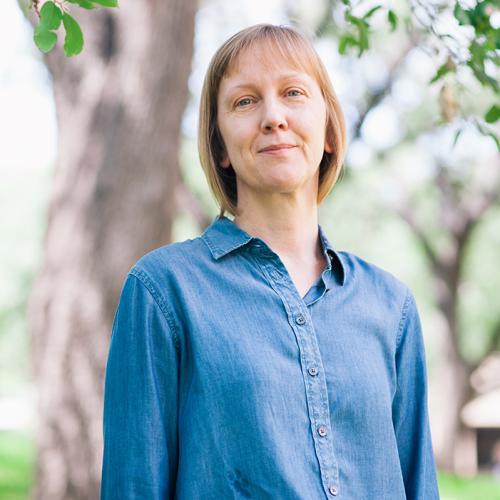 Professor of Music Theory

Division Head, Theory & Composition
Marianne Wheeldon received degrees in music theory from King's College, University of London (B.Mus) and Yale University (Ph.D.). Her research interests include the music of Claude Debussy and its posthumous reception, the analysis of twentieth-century French music, and interdisciplinary topics in music analysis, cultural history, and the sociology of culture. She regularly teaches graduate courses in Schenkerian Analysis and Form Theory, and offers doctoral seminars in her areas of interest, including Music and Culture in fin-de-siècle Paris, Music Analysis in Cultural Context, Neoclassicism, and Musical Schemata.
Professor Wheeldon has served as Editor-in-Chief of Music Theory Spectrum (2017–21). Other past professional service includes: SMT Program Chair (Vancouver 2016), SMT Program Committee (St. Louis 2015), and AMS Council (2014–17).
Books:
Debussy's Legacy and the Construction of Reputation (New York: Oxford University Press, 2017).
Debussy's Late Style (Bloomington: Indiana University Press, 2009).
Edited Collection:
Rethinking Debussy, ed. Elliott Antokoletz and Marianne Wheeldon (New York: Oxford University Press, 2011).
Recent Articles:
"Debussy's Romantic Relationships."  In Debussy in Context, ed. Simon Trezise (Cambridge University Press), forthcoming.
"Collective Remembering/Collective Forgetting: Debussy's Legacy and his Late Works."  In Debussy Studies 2, ed. David Code and Barbara L. Kelly (Cambridge: Cambridge University Press), forthcoming.
"Debussy's 'Reputational Entrepreneurs': Vuillermoz, Laloy, Koechlin, and Vallas."  In Music Criticism in France 1918–1939, ed. Barbara L. Kelly and Christopher Moore (Woodbridge: The Boydell Press, 2018).
"Anti-Debussyism and the Formation of French Neoclassicism," Journal of the American Musicological Society 70, no. 2 (2017).
MUS 388M 5
Schenker's Theory of Tonal Music
MUS 388M 2
Form Theory
MUS 388S/381J
Musical Schemata
MUS 325M
Counterpoint
MUS 411A and 411B
Ear Training and Sight Singing
Contact Information
Campus location
MRH 3.726
Teaching Areas
Music Theory
Research Areas
Music and class in fin-de-siècle Paris
Debussy's music and its posthumous reception
Analysis of 20th-century French music
Education
Doctor of Philosophy
Yale University
Bachelor of Music
King's College, University of London