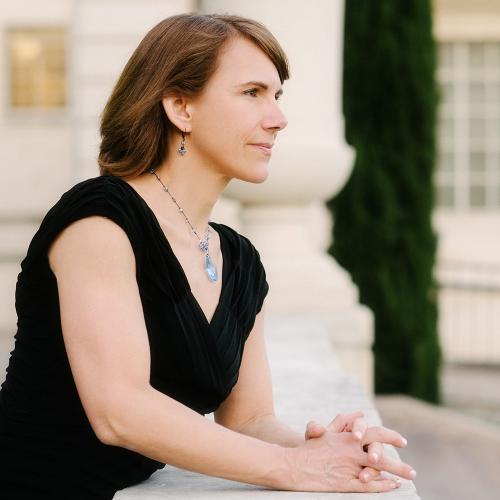 Professor of Bassoon

Division Head, Chamber & Collaborative
Kristin Wolfe Jensen has been Professor of Bassoon at The University of Texas at Austin Butler School of Music since 1995 and is also principal bassoonist with ROCO, on the faculty at the International Festival Institute at Round Top, and a licensed body mapping educator. She is the creator of the multimedia bassoon tutorial, MusicandtheBassoon.org and producer of the video series, The Herzberg/Kamins Reed Making Method.
The American Record Guide said about her solo CD, Shadings. "...She has simply turned in the finest-played bassoon recital I have ever heard". Other critically acclaimed solo and chamber music recordings include …and Kristin Wolfe Jensen, Parables and Reflections, and Handel: The "Halle" Sonatas. Ms. Jensen has performed with the Dallas Symphony, The Houston Grand Opera, The Dallas Opera, the San Antonio Symphony, the Eastern Philharmonic, the Fort Worth Symphony, the Richardson Symphony, the Las Vegas Symphony, the Jupiter Symphony of New York and Continuum, and has given guest recitals and masterclasses at many major American music schools, and in South America and Europe. She has performed solo recitals at several International Double Reed Society conferences and was co-host of the 2005 conference in Austin.
Her former students hold major orchestral, military band and university faculty positions across the U.S. Prior to her appointment at UT, she was on the faculties of the University of Nevada, Las Vegas, and the University of North Texas. As a student, she won the concerto competitions at the Juilliard School of Music where she received her Master of Music degree, and at the Oberlin Conservatory where she received her Bachelor of Music and Bachelor of Music Education degrees, which led to performances of the Mozart Bassoon Concerto, k. 191.
MUS 176M
The Healthy Musician
Applied Bassoon
Never one to rest on her laurels, Jensen has continued on her quest to make bassoon editors worldwide simultaneously proud and jealous by releasing a book so quietly powerful that it has the potential to alter for the better how the bassoon is taught for generations to come
- Ryan Romine
International Double Reed Society Journal
reviewing The Breathing Book for Bassoon 
One of the great challenges of playing and teaching the bassoon is that our sound production is largely internal, rendering it out of sight and difficult to conceptualize. To that end, Kristin Wolfe Jensen has written an accessible, science-based, practical exploration of one of the most fundamental and, in some ways, most widely-misunderstood aspects of making music on the bassoon. This is the book I have been waiting for!
 - William Short
Principal Bassoon, Metropolitan Opera Orchestra Faculty,
The Juilliard School, Manhattan School of Music, Temple University 
reviewing The Breathing Book for Bassoon
Contact Information