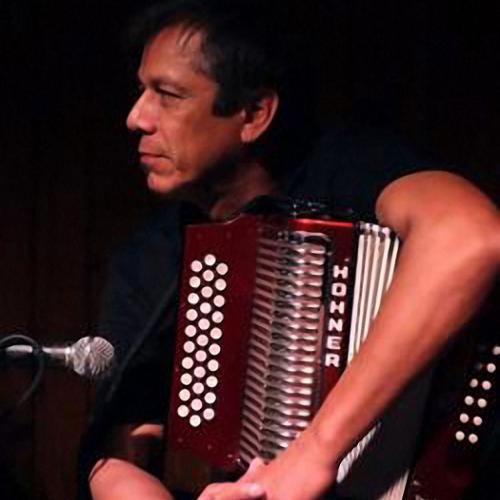 Accordionist, singer, and producer Joel Guzmán grew up playing conjunto in his father's band in Washington state, where his family relocated from Texas in the 1950s.  Over the years he played with the greats, includ-ing Santiago Almeida and Flaco Jiménez.  Guzmán returned to Texas in the 1980s and spent the next three decades—along with singer-songwriter and longtime collaborator Sarah Fox—pushing the boundaries of Tex-Mex music. The bilingual Austin duo still play conjunto, but they also blend it with jazz, blues, and country, plus the tropical sounds of cumbia and salsa.  They often record and perform with other top artists, ranging from Joe Ely and Rickie Lee Jones to Buddy Miller and Lee Ann Womack.
Guzmán won Grammys for 1998's Los Super Seven and 2004's Polkas, Gritos y Acordeones albums, plus another for the 2010 soundtrack of Crazy Heart, a film in which he also acted. Guzmán and Fox both perform in the new film When Angels Sing, which premiered at this year's SXSW festival in Austin.
At 56 Joel Guzmán plays and promotes the accordion with passion. He teaches accordion workshops around the country and hosts the annual Squeezebox Mania, an Austin celebration of all things accordion. He also directs the University of Texas at Austin's Tex-Mex Conjunto Ensemble.
"My musical roots reach back to the beginnings of conjunto," Guzmán says. "It's my duty to act as a bridge between past and future."
ENS 106C  | 186C
Conjunto Ensemble
Contact Information
Ensembles
Teaching Areas
Conjunto
Ethnomusicology