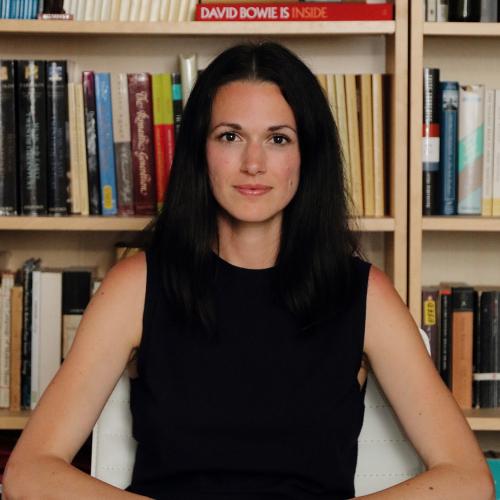 Assistant Professor of Instruction in Musicology
Alison Maggart is a musicologist, whose research focuses on twentieth-century music and culture, in particular serial music and aesthetics, philosophies of dissonance and noise, esotericism in music, and U.S. modernist identity. Her work has been published or is forthcoming in Current Musicology, Perspectives of New Music, and Contemporary Music Review. She has also presented at numerous conferences on Milton Babbitt, baseball, and postwar nostalgia; intertextuality in serial music; new materials from the Piatigorsky archives (her paper, "A Newly Discovered Cadenza by Richard Strauss: Haydn, Til Eulenspiegel, and the Humoresque" won the AMS Ingolf Dahl Award in 2016); opera in the 2016 U.S. presidential campaign; and time travel in "sound baths" at the Integraton. In 2020–21 she was an invited participant in a joint USC Levan Institute for the Humanities/UCLA Stavros Niarchos Foundation Center for the Study of Hellenic Culture study group, devoted to sound in sacred spaces. As a public musicologist, she has worked for the Piatigorsky Archives, the Sacramento Philharmonic & Opera, and the LA Phil.
After graduating from Middlebury College with a specialization in music composition, she worked as an orchestrator and transcriber for Bollywood composer, A.R. Rahman, in India. In 2017, she received her Ph.D. in Historical Musicology from the University of Southern California, where she was named the Outstanding Doctoral Student of the Thornton School of Music. Her dissertation, "Referential Play in 'Serious' Music: Allusions to the Past in Milton Babbitt's Works from the Late 1980s," which theorizes the role that borrowing and quotation play in Babbitt's aesthetics and construction of American-Jewish identity, was awarded the Musicology Department Award and the Pi Kappa Lambda Award for academic achievement. In recent years, Maggart has become increasingly interested in sound baths, popular philosophies of vibration, and music that shares postwar concerns in space, time, and the cosmos.
MUS 385J
Utopias and Dystopias in Postwar Music
MUS 379K/387L
20th-Century Philosophies and Structures of Dissonance
MUS 379K/387L
20th-Century Orchestral Music
MUS 379K/387L
20th-Century Chamber Music
MUS 379K/387L
20th-Century Opera
MUS 379K/387L
20th-Century Art Song
MUS 379K/387L
Minimalism 
MUS 379K/387L
20th-Century Music for Ballet and Modern Dance 
MUS 379K/387L
20th-Century Music by Women Composers
MUS 381
Reference and Research Materials in Music
MUS 380
Advanced Studies in the History and Culture of Music: Twentieth Century
MUS 213N
History of Music II (c.1730-1914)
"The Literary Echoes in Milton Babbitt's Music." Journal of the American Musicological Society 76, no. 3 (Forthcoming Fall 2023).
 
Special Double Issue on Milton Babbitt: "Playing (with Babbitt) in the 21st Century." Edited by Zachary Bernstein, Andrew Mead, and Joshua Mailman. Contemporary Music Review 40, issues 2–3 (2021): 141–161.
"Some Surface-Level 'Spurious Associations' Between Milton Babbitt's Whirled Series and Baseball." Perspectives of New Music 58, No. 2 (2020): 157–214.
"Milton Babbitt's Glosses on American Jewish Identity." Current Musicology No. 101 (2017): 53–80.
Contact Information
Campus location
MRH 3.714
Teaching Areas
Musicology 
Research Areas
20th-Century Music of the United States
Serialism/Formalism 
Electronic Music 
Cold War Studies
Music and Scientism
Music and Spirituality
Historiography and Reception History
Education
Doctor of Philosophy
University of Southern California 
Bachelor of Arts
Middlebury College