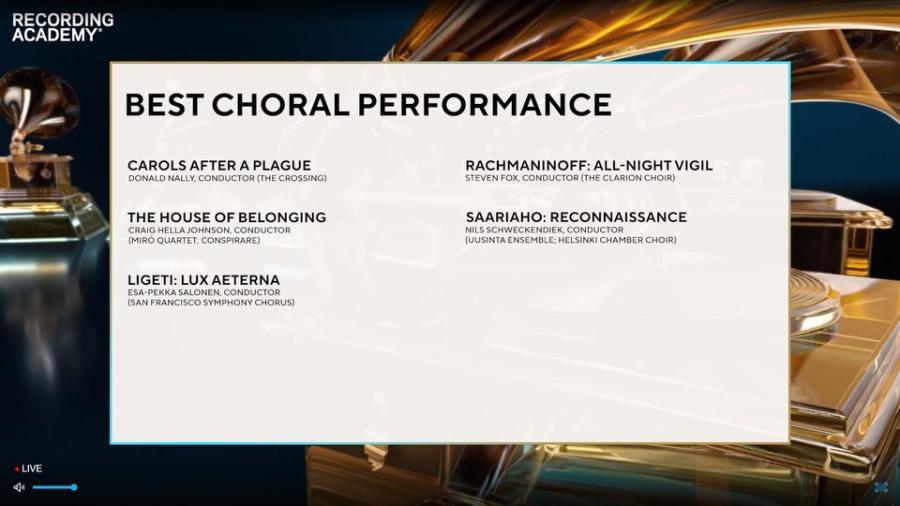 AUSTIN, Texas — We are thrilled to announce that the Miró Quartet has earned a nomination for "Best Choral Performance" at the upcoming 2024 Grammy Awards for their album House of Belonging in collaboration with Austin-based choral group Conspirare.
This is the first Grammy nomination for the Miró Quartet, who have served as the quartet in residence at the Butler School of Music since 2003.
The album, conducted by Conspirare Artistic Director Craig Hella Johnson, features numerous Butler School connections. Associate Professor of Practice in Violin Performance Sandy Yamamoto is featured, as well as several alumni, including Carla McElhaney (piano), Kathlene Ritch (soprano), Rick Gabrillo (bass), and Daniel Kopp (cello). Two of the works on the album are by Kevin Puts, a former member of the Butler School composition faculty. 
Miró Quartet cellist Joshua Gindele said the quartet is incredibly excited and grateful for their first Grammy nomination, and honored to have been part of the project.
"This project allowed us to showcase the works of new composers commissioned specifically for this album," Gindele said. "It is a testament to the power of collaboration and the vibrant creativity that emerges when artists come together to explore new musical horizons."
Artistic Director Craig Hella Johnson reflected, "We are greatly honored by this nomination because it recognizes the talent of all of the artists and collaborators who invested in this recording. We are so grateful to each of them for creating music that has reached so many people in a time where music is needed more than ever to connect us.  It is truly inspiring to be included in this category with such extraordinary colleagues whom we respect and love."
For interview requests please contact Riane Roldan at riane.roldan@austin.utexas.edu.