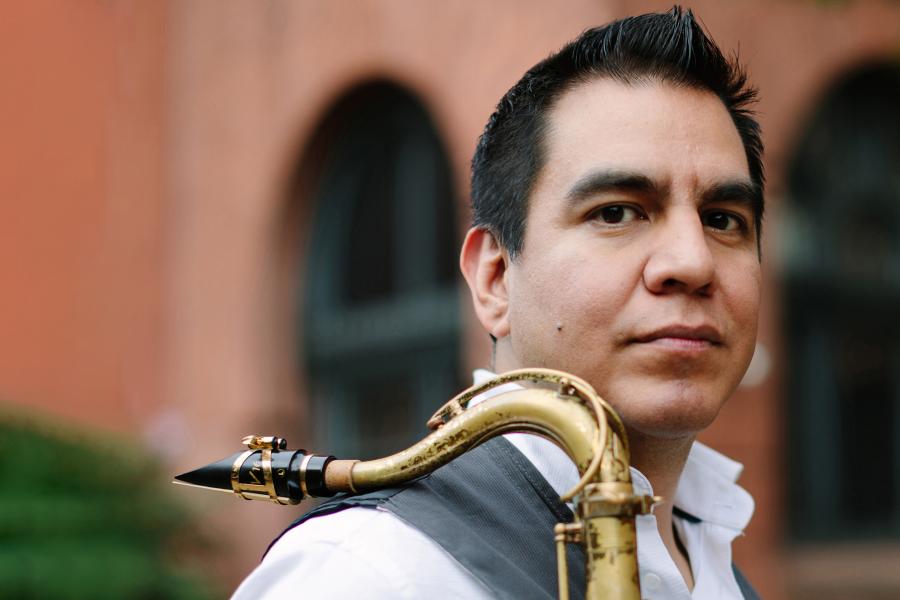 Associate Professor and Director of Jazz Studies in the Butler School of Music Diego Rivera received one of 24 grants from Chamber Music America's 2022 New Jazz Works and Classical Commissioning program. Rivera's grant was part of the $392,000 been awarded to 12 ensembles through New Jazz Works, which provides grants to U.S. jazz ensembles to create, perform and, if desired, record new works. The new work may be composed by the ensemble leader or another member of the ensemble.
Rivera is the leader/composer of the Diego Rivera Quintet, which includes saxophones, trumpet, piano, bass and drums.
Rivera, a musician, composer, arranger and educator, known for his muscular tone and unique blend of straight-ahead jazz fused with music inspired by his Latino background and heritage, joined the Butler School of Music this fall. In addition to touring with his own ensemble, Rivera has also toured both nationally and internationally with Grammy Award-winning vocalist Kurt Elling, JUNO Award-winning Canadian Jazz Vocalist Sophie Milman and The Rodney Whitaker Quintet. He is a member of the The Ulysses Owens Jr. Big Band, the Jazz Orchestra @ The Dr. Phillips Center, The Gathering Orchestra and the SEIKO Summer Jazz Faculty. He's performed with The Jazz @ Lincoln Center Orchestra, Wynton Marsalis, Ellis Marsalis, Christian McBride, Wycliffe Gordon, PRISM Saxophone Quartet, the Gerald Wilson Big Band and the Lincoln Center Afro-Latin Jazz Orchestra.
The New Jazz Works program also awarded a grant to jazz pianist Helen Sung (B.M., 1993, M.M. 1995), recipient of the college's the E. William Doty Distinguished Alumna Award in 2016.
Related content
New Faculty Member Q&A: Diego Rivera