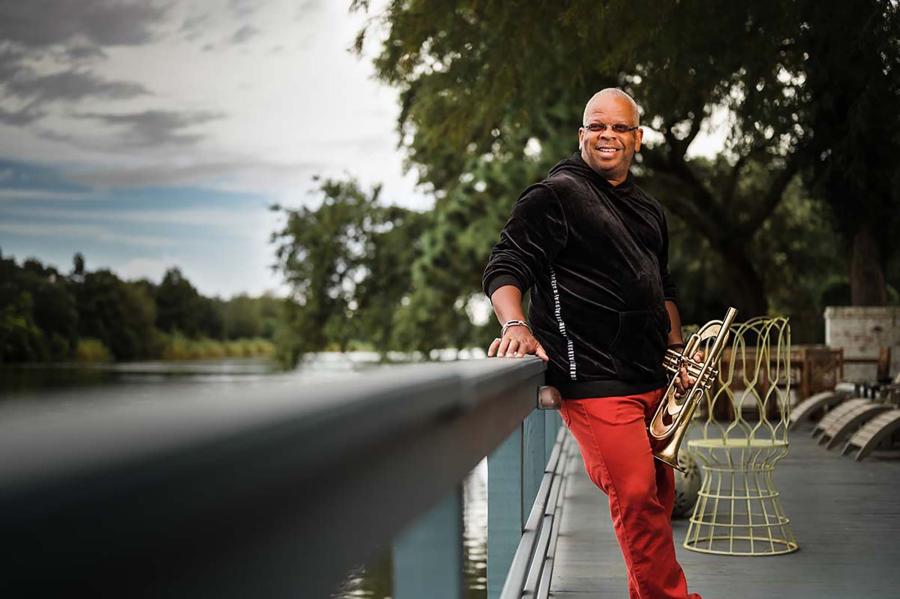 Blanchard is the recipient of a $50,000 prize given every two years for achieved excellence in original music composition.
AUSTIN, Texas — The Sarah and Ernest Butler School of Music at The University of Texas at Austin is pleased to announce Terence Blanchard as the 2023-24 winner of the prestigious Eddie Medora King Award.
The Butler School awards the $50,000 prize every two years for achieving excellence in musical composition. Blanchard, a renowned composer and trumpet player, will be in residence at the Butler School from November 6 – 10. 
"The chance to work with Mr. Blanchard, a jazz giant and true master of our art form, is truly a once in a lifetime opportunity that our students are excited about and working diligently to prepare for," said Director of Jazz Studies Diego Rivera. "We feel incredibly fortunate that we can provide this experience for our students."
About Blanchard, writer Dan Ouellette wrote, "Terence is unique in the jazz world as an artist whose creative endeavors go far beyond the genre — into film scoring, crafting television series soundscapes, and conceiving grand operas that have been recognized at the highest levels of art appreciation. In addition, Blanchard has been at the forefront of giving voice in his works to socio-cultural issues and racial injustices of our time."  
"Like anybody else, I like to play feel-good party music, but sometimes my music is about the reality of where we are," Blanchard, who lives in Los Angeles as well as in his native New Orleans, said to Ouellette. "I'm just trying to speak the truth."
While in residence at the Butler School, Blanchard will host several discussion panels, both with students and the larger Austin community, visit classes to share insights about his career, and will play as a soloist in concert with the Jazz Orchestra on Nov. 8 at 7:30 p.m. 
During that same week, Texas Performing Arts will put on a concert performance of Fire Shut Up In My Bones, Blanchard's second opera that made history as the first opera by a Black composer to be performed at the Metropolitan Opera. The presentation will include excerpts from the opera performed by the composer, an ensemble of string and jazz musicians, two guest singers, and projections by visual artist Andrew F. Scott. It is based on the deeply personal memoir by New York Times columnist Charles M. Blow. 
Rivera claims that Blanchard represents the very best of the art form's traditions. 
"He's an artist who learned from the masters of this music, who himself has developed a distinctive voice, and now passes his wisdom on to the next generation of emerging artists," Rivera said. 
Blanchard joins a distinguished list of Eddie Medora King Award recipients, including Chen Yi (1999), John Corigliano (2001), Joan Tower (2005), John Adams (2007), Kevin Puts (2013), Jake Heggie (2016), Jennifer Higdon (2018), and Gabriela Lena Frank (2020).