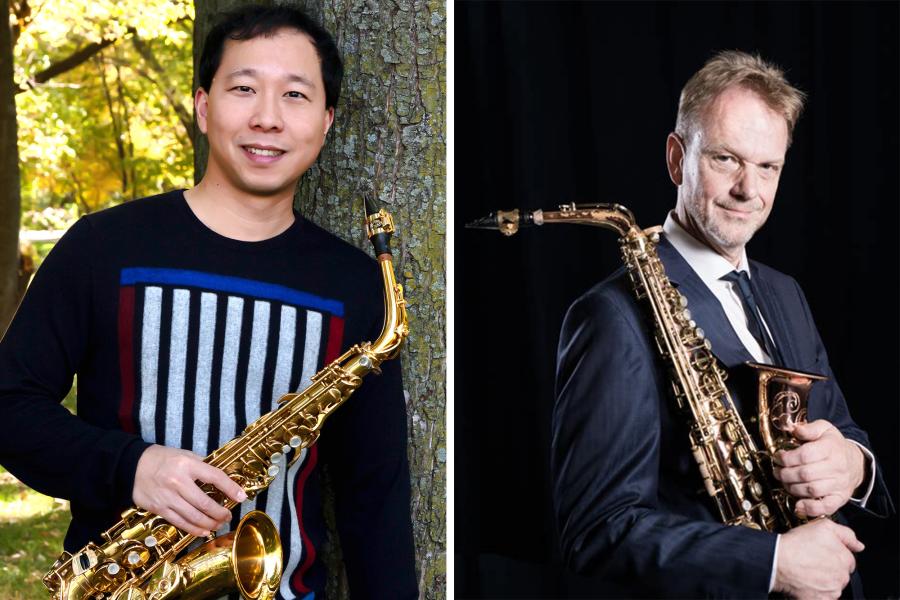 Program
Viet Cuong
Sanctuary
 
Florent Schmitt
Légende
 
Henri Sauguet
Sonatine Bucolique
 
Vincent David
Refraction  (world premiere)
 
Claude Debussy
Rapsodie 
Ennio Morricone
New Cinema Paradise Medley
 
Robert Aldridge
Sound Moves Blues 
---
About the Artists
Widely recognized as one of the world's leading classical saxophonists, Kenneth Tse is one of the instrument's outstanding proponents on any saxophone aficionado's short list. He has been a frequent soloist on five continents, including solo appearances with the Des Moines Symphony, United States Navy Band, Slovenia Army Band, La Armónica Band of Bunol, Spain, and Hong Kong Sinfonietta among others. Tse is currently Professor of Saxophone at the University of Iowa in the United States. 
Classical saxophonist Arno Bornkamp is a unique figure in both the saxophone world and the classical music world in general. Bornkamp's saxophone style is strongly rooted in the 20th century French tradition. He has given more than 200 performances as soloist with orchestras, where he collaborated with conductors such as Hans Vonk, Jac van Steen, Lucas Vis, Thierry Fischer, Bernhard Klee, Jean-Bernard Pommier, Andrey Boreyko, Pierre-André Valade and others. Bornkamp is a faculty member at the Conservatory of Amsterdam. 
Casey Dierlam Tse
An avid performer of contemporary music, Casey Gene Dierlam Tse devotes herself in promoting new music. She has won several prizes in international competitions, including first prize at the Rose Petroff College Piano Competition held in San Antonio, TX, finalist at the St. Louis Artist Presentation Society Competition, alternate for the New Orleans International Piano Competition and Honorable Mention in the Bradshaw and Buono International Piano Competition in New York City.
Event Details
Event Types
Chamber Music
Free Admission
Winds & Percussion