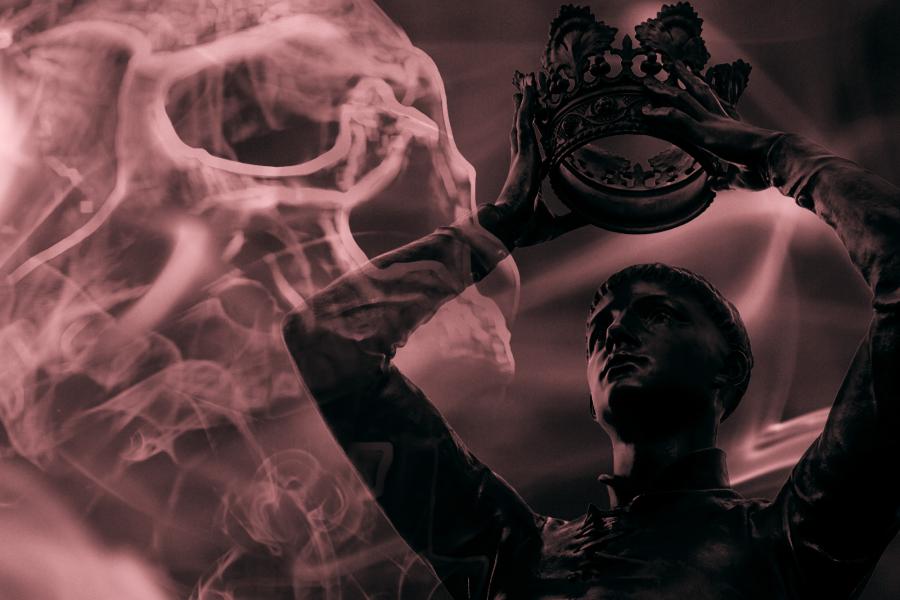 Der Kaiser von Atlantis (The Emperor of Atlantis) 
by Viktor Ullmann
Matthew Schulz, director
Douglas Kinney Frost, conductor 
with New Music Ensemble 
In German with English surtitles 
During their imprisonment in the Nazi concentration camp Theresienstadt, composer Viktor Ullmann collaborated with fellow inmate and librettist Peter Kien on this thought-provoking drama, in which Death itself is personified. A cruel emperor decrees a universal war, and feeling usurped by the declaration, Death goes on strike. The masses are then unable to die and attempt to imagine a world without fatal conflict, "where only love can unite us." Though Ullmann and Kien died while imprisoned, their manuscripts were preserved and the work was premiered by the Dutch National Opera in 1975. 
---
Mariachi opera La Cruzar la Cara de la Luna was originally supposed to be performed as a double bill in this performance, meant to coincide with the Latinx Arts Summit that College of Fine Arts Dean Rivera-Servera had been planning for spring 2022. Because the summit will be bringing in artists and scholars from so many locations, the dean has decided to postpone the summit until the fall, in hopes that the pandemic situation will have further stabilized by then. 
The summit is intended to showcase Latinx programming from a variety of disciplines around our college, and we have decided to postpone La Cruzar to fall 2022 to keep it aligned with the timing of the summit. The new dates for the summit and opera are still pending.
Event Details
Feb. 24, 2022, 7:30 to 8:45 p.m.
Feb. 26, 2022, 7:30 to 8:45 p.m.
Feb. 27, 2022, 4 to 5:15 p.m.
$10 – 20
All University of Texas at Austin students are allowed one free ticket as long as they are available. Student tickets must be picked up at the Box Office with valid student I.D. Seating is unassigned. There are four wheelchair spaces available in McCullough Theater.
Please review security policies for McCullough Theatre prior to your visit.