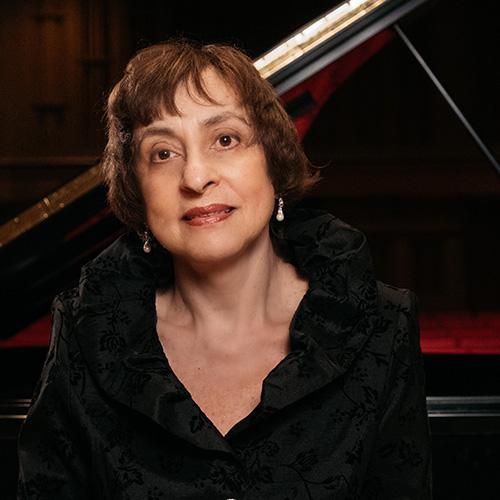 Emeritus Professor of Piano Pedagogy
Sophia Gilmson, Russian-born pianist, graduated cum laude from the Leningrad (St. Petersburg ) Conservatory, where she studied with Professor Vitaly Margulis. She is a recipient of numerous awards, among which are the First Prize in the Young Artists Competition in New York City, followed by a recital in Carnegie Hall, and the Piano International Recording Competition. Radio Leningrad, Radio Vatican, WQXR and WNYC in New York City, among others, have broadcast her performances.
She has concertized extensively in her native Russia, Italy, and the United States to a high critical acclaim. Carl Cunningham of The Houston Post described Ms. Gilmson's playing as a "…brilliant, driving performance." Michael Huebner, of the Austin American-Statesman, referred to her performance of Bach's Goldberg Variations as "one of the most refreshing and thought-provoking performances this season." In 2001, she was awarded the prestigious Mount Everest Award by the Austin Critics Table for this performance, in which she played the Goldberg Variations on harpsichord and piano in the same evening. Michael Barnes, chief arts critic of the Austin American-Statesman, ranked this as one of the top ten arts events of 2001, calling it "unforgettable". In the celebration of its 20th anniversary, Austin's Performing Arts Center included this concert in the list of twenty most memorable programs of its history, one per year.
Sophia Gilmson is active as a teacher as well as a performer. Her students have won major prizes on state, national, and international levels. Her unique pedagogical skills are universally recognized at both pre-college and collegiate levels. She has received an array of excellence in teaching awards, including 2001 Collegiate Teaching Achievement Award of Texas.
Contact Information
Teaching Areas
Piano, retired
Education
Master of Music
St. Petersburg Conservatory
Leningrad, Russia