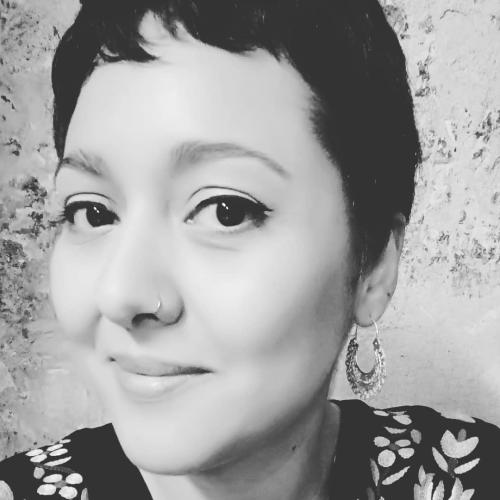 Teaching Assistant in Ethnomusicology
Mercedes Alejandra Payán Ramírez is a music education scholar and ethnomusicologist specializing in brass bands from indigenous communities from Oaxaca, Mexico, and music traditions that are non-academized or are in the process of academization, like mariachi and rock music. She attended the Universidad Veracruzana, where she received a Bachelor's degree in Music Education (BA), and the Universidad Nacional Autónoma de Mexico (MA), where she earned a Master's Degree in Ethnomusicology. She is currently doing doctoral studies in Ethnomusicology at the University of Texas at Austin under the supervision of Dr. Robin Moore.
Her current work focuses on musical teaching and learning processes from the anthropological perspective and curricular design and teacher instruction from diverse music traditions for both the institutional and community fields. On the institutional side, she worked for the Centro Cultural Ollin Yoliztli, Secretaría de Cultura de la Ciudad de México, as a researcher centered on art-teacher certification, institutional historical memory, and curricular design. Regarding community work, she is currently part of a transnational project between indigenous women musicians from Oaxaca that live in the United States and México as she collaborates with them as a member of the Red de Mujeres Músicas Transfronterizas.
As a performing musician, she played the flute and the piccolo for the Pasatono Orquesta Mexicana, a group investigating, searching for, and interpreting Mexican academic music where indigenous and traditional Mexican music converges for its revaluation and dissemination. On the teaching front, she has imparted workshops and courses for teachers in the arts and seminaries of upper-level music research. As a flute instructor, she belonged to the symphonic bands' program at the Sistema Juárez – Agrupaciones Musicales Comunitarias – Sistema Nacional de Fomento Musical – Consejo Nacional para la Cultura y las Artes de México.
ENS 106K/186K/096K
Hispanic Caribbean Ensemble
MUS 334/LAS 326/AFR388F
Music of Mexico and the Caribbean  
MUS 312C
Music and Culture
Contact Information
Campus location
MRH 3.410
Ensembles
Areas of Assistance
Latin America Music Review
 
Education
Master of Music
Universidad Nacional Autónoma de México
Bachelor of Music Education
Universidad Veracruzana