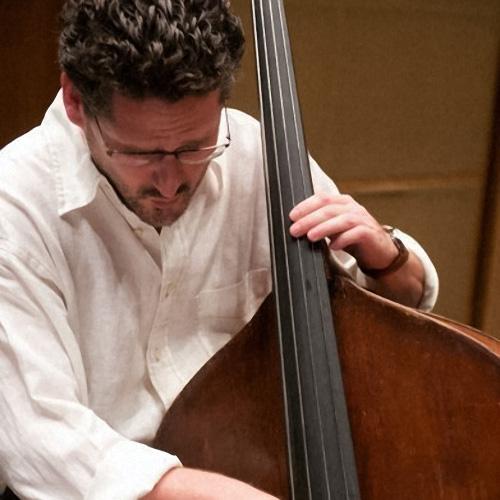 Associate Professor of Jazz Studies, Double Bass

Director, Alternative Improvisation Music Ensemble

Division Head, Jazz Studies
Bassist John Fremgen grew up in the Chicago area where he studied classical bass with Harold Siegel.  He received a BM in Commercial Music from Millikin University and a MM in Jazz Studies from The University of Southern California where he studied with Brian Bromberg and Shelly Berg.  He has played bass for a wide variety of artists across the United States and internationally, including jazz artists Butch Miles, Kat Edmonson, Shelly Berg, Kirk Covington and Jamie Findlay, as well as pop/rock artists PJ Olsson, Libby Kirkpatrick, Eric Johnson and five-time Grammy Award winner, Christopher Cross.  He has performed in Japan, France, Germany, Italy, Switzerland, Russia, Brazil, Guatemala, Mexico and Canada. As an educator, he has taught, given masterclasses, conducted, and performed at The Rimsky Korsakov Conservatory in St. Petersburg, The Conservatorio di Musica di Perugia in Umbria, Italy, The Rhythmic Music Conservatory in Aarhus, Denmark, The Guatemalan American Institute in Guatemala, The North Sea Jazz Festival, The Guatemala Jazz Festival and The Montreux Jazz Festival.
His bass playing can be heard on dozens of jingles, TV shows and movies, including Dawson's Creek, Party of Five, Shorts, Down to You and The Late Show with David Letterman. He has also recorded as a sideman for numerous artists, including PJ Olsson, Eric Johnson, Christopher Cross, Abra Moore, Ruthie Foster, Rick Trevino among many others. He has three albums on Viewpoint Records: Meanwhile with Peter Erskine and Mitch Watkins, Pieces of String with Peter Erskine and Shelly Berg and If Not Now with various artists. 
Beginning Jazz Improvisation
Intermediate Jazz Improvisation
Jazz Theory I
Jazz Theory II
Independent Study/Jazz Bass
Independent Study/Jazz Improvisation
Beginning Jazz Piano Techniques
As a leader 
Meanwhile 
with Peter Erskine and Mitch Watkins • Viewpoint Records
Pieces Of String
with Peter Erskine and Shelly Berg • Viewpoint Records
If Not Now
Viewpoint Records
As a sideman 
Words For Living 
PJ Olsson • Sony 
Beautifully Insane 
PJ Olsson • Sony 
PJ Olsson 
PJ Olsson • Red Ink
Dust 
PJ Olsson • HitIt!
Math And Science 
Math and Science • Brick Red 
The Songs of Dawson's Creek 
various artists • Sony 
In My Life 
George Martin • MCA 
Peak Moments 
Jeff Hellmer/Rick Margitza • Viewpoint 
Jazz, Bars and Battlescars 
Tony Campise • Viewpoint 
Faithful 
Sara Hickman 
Goodnight Venus 
Libby Kirkpatrick • Heart Music
Tucker Livingston 
Tucker Livingston • AMP
"Fremgen shows himself an adroit craftsman on the strings, slapping and popping away on electric or plucking resonant tones on acoustic."
– Cadence Magazine
"John Fremgen is the best bass player on the scene today-at home in virtually any setting or lineup." 
– The Austin Chronicle
"Fremgen is consistently on his toes, strong and energetic, and the group swings hard and happy." 
– All Music Guide
"[Fremgen's] bowed, upright bass passages stir the soul." 
– Southland Blues Magazine
"This band was a very pleasant surprise…. "A Nightingale Sang in Berkley Square" gives scope for a fine solo from Fremgen." 
– HiFi+ Magazine
Contact Information
Campus location
MRH 6.254
Ensembles
Teaching Areas
Jazz Studies
Jazz Bass
Education
Master of Music
University of Southern California
Bachelor of Music
Millikin University