Andy Stoltz in the Live Room
Ongoing improvements to MRH Continue
Jessen Lighting Upgrade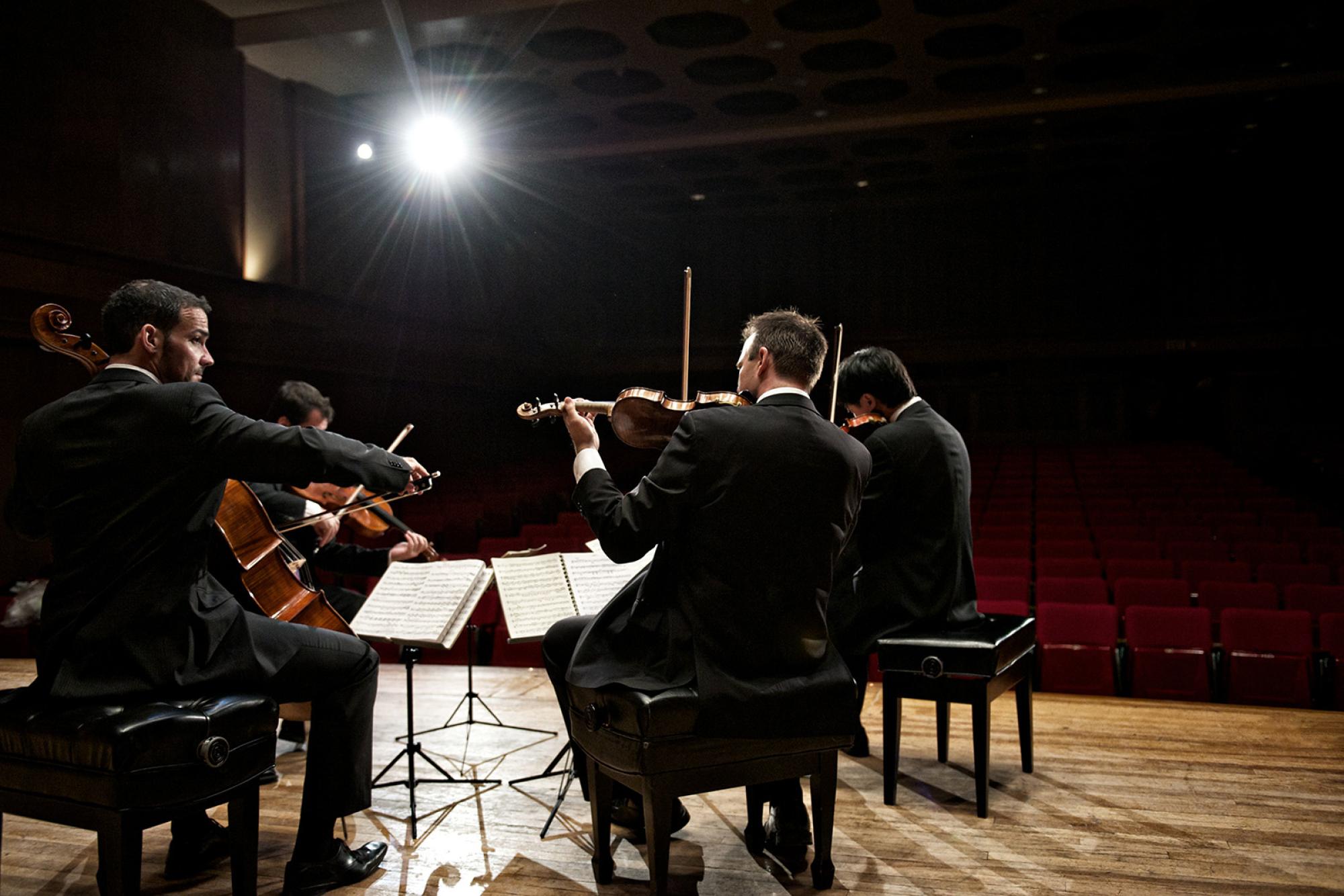 Anyone who has spent time in the Butler School's three hundred-seat Jessen Auditorium will likely tell you the acoustics are sensational. UT's original music venue sports a classy art deco look, and while many of the architectural fixtures are charming, the stage's light fixtures have aged like milk. The decades-long lack of updates have left performers suffering through weak lighting that leaves an otherwise excellent performance looking dull and indistinct, while backstage staff fussed over a lighting control panel that would seem more at home in a hydroelectric power plant.

When the Butler School of Music's production manager Travis Weller toured the auditorium for the first time, he thought, "What is it going to take to make this better?" Unfortunately, the answer at the time came with a daunting $150,000+ price tag. This sky-high cost estimate for a lighting renovation was due to the fact that the existing system was built on top of antique dimming equipment, some of which was installed circa 1942. In the 2018-19 academic year, persistent poking and a little luck led to the installation of a shiny new lighting system in Jessen, generously funded by the University's Replacement and Renewal funds (R&R). Butler School rental income paid for the remaining cost of thirteen modern LED fixtures.

The myriad improvements include a tenfold increase to the maximum amount of stage light possible, front lighting positions instead of exclusively from above, full color changing capabilities, and the ability to optimize color temperature for video. All the new features are easily accessible from a push button controller. These improvements have made a marvelous difference for our mid-size hall. Operations staff cannot wait for students and faculty to return and step into the new spotlights!
-Travis Weller, Production Manager
---
HVAC and Electrical Renovations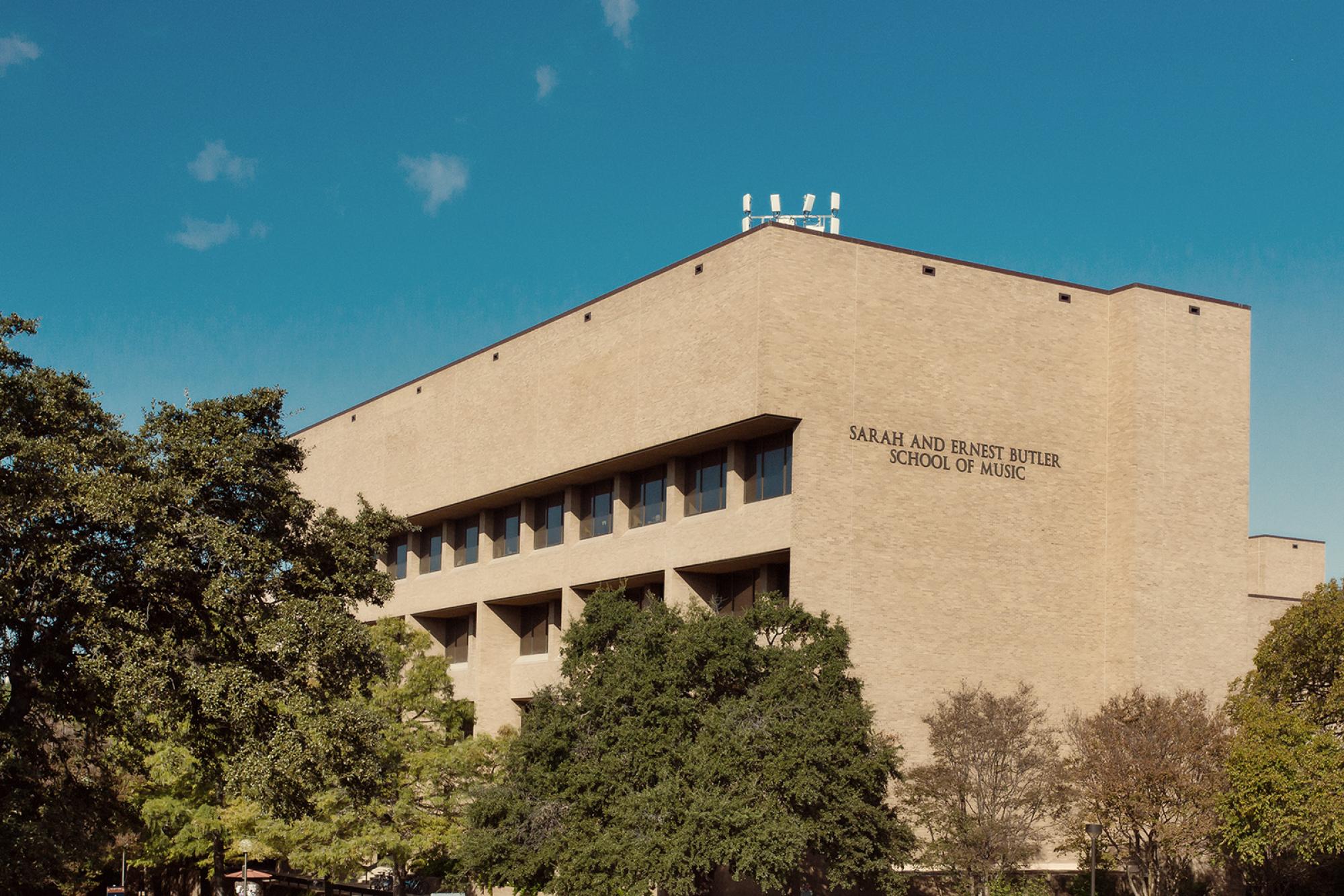 If you visited the Butler School of Music during the summer of 2019, you no doubt noticed that the "MBE" portion of the building was locked and dark. You probably also noticed construction fencing and vehicles and a giant hole on the south side of the building through which our heating, ventilation, and AC equipment was being demolished, removed, and replaced.
That was Phase One of a two-phase project funded by University R&R, administered by Project Management and Construction Services (PMCS). MRH was chosen to be part of a larger effort across campus to update old and/or failing building systems, as even the newer section of our building is now 40 years old. 
Replacing heavy machinery like that is a herculean effort in every respect—and that is true for both PMCS and the Butler School. We spent much of the 2018-19 school year planning for piano moves, Longhorn Music Camp contingencies, and reevaluating how to use our spaces to continue to host important events such as the University Interscholastic League's State Solo and Ensemble Contest and Austin Chamber Music Center's Summer Workshop. Though our plans were well-laid, several unforeseen challenges shortened the already truncated timeline set for us to restart operations in the fall of 2019. Nevertheless, our staff persisted and got both Longhorn Band and fall 2019 up and running, with brand new heating, ventilation and, air-conditioning (HVAC) and electrical systems powering MBE.
With Phase One complete, our attention turned to planning for Phase Two: a larger effort by every measure. Again, unforeseen difficulties, this time a global pandemic, arose to complicate matters—and again our staff rose to the challenge of securing contracts for piano moves, getting the Bates organ protected, and physically preparing classrooms and studios for a three-month power outage. Phase Two is remarkable in that not only is our HVAC system being replaced, but also the (in)famous "cube" lights, our main corridor lighting, and the canopy lights in Bates Recital Hall are all being upgraded to modern fixtures with energy-efficient LEDs. The total cost for these upgrades is around $10 million and will likely be highlighted on contractors' resumes as a major accomplishment.
Once pandemic restrictions allow, students, faculty, staff, and our patrons will enjoy a much brighter MRH with cleaner air.
-Russell Podgorsek, Building Manager
---
Recording Studio Updates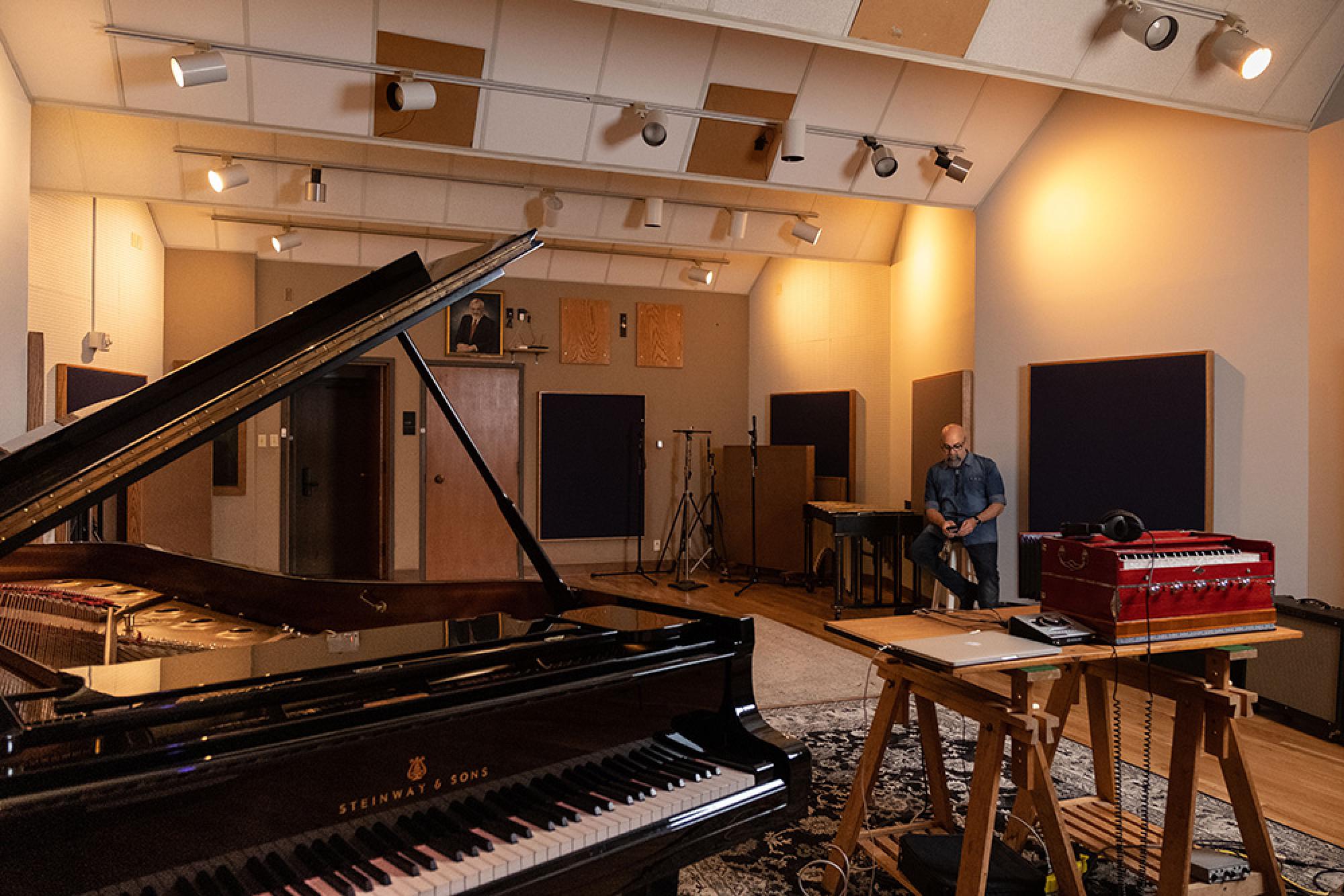 The recording department made several production upgrades to all of the Butler School's performance spaces. As of fall 2019, all student, faculty, and ensemble performance recordings include audio and video in Bates Recital Hall, the Recital Studio and Jessen Auditorium. In our current culture, video is paramount for applying for competitions, graduate school, summer festivals, and jobs. We are very happy to now offer this service to everyone. 
The video capture system for Bates Recital Hall has been completely replaced, doing away with computer-based recording and replacing that aging standard with a dedicated solid-state drive video recorder. Jessen Auditorium received a complete overhaul of its microphone setup. Gone are the unsightly microphone poles and cables in the first row! We have installed a hanging ambisonic microphone (a fancy synonym for "surround sound"). It can be raised or lowered to taste and combined with two other permanently installed "hall mics"; the recording capabilities in Jessen are thus now similar to that of Bates.  
The studio also saw much increased use in its recently renovated live room. These recordings ranged from student application and competition audio/video recordings to full-length albums for both students and faculty. The recording studio staff has spent a considerable amount of time and energy streamlining and consolidating all of the equipment to meet current recording standards. The studio also hosted the first season of Small Batch – the intimate performance series that takes place in the live room – which proved to be a great success. 
-Andrew Stoltz, Recording Services Manager