Andrew Stoltz and Russell Podgorsek in the Live Room
Introducing the Small Batch Series
When Andrew Stoltz was hired as the Butler School's recording services manager in 2018, the Live Room — as it's now called — was an underutilized audio storage space that had fallen into disrepair.
But Stoltz saw something that could be central to the recording department, and also fill a gap in the school's performance spaces: Not a control room, not a recital hall, but a space for sessions. Put another way, it could be a place for projects that were still a couple of steps away from the recital hall, or projects that relied on audience interaction due to their artistic aims. What would differentiate the Live Room, perhaps evident in the name, would be the breathing and commutable nature of the space.
"I've always had this idea for a digital campfire," Stoltz explained.
He, along with many others from the recording department crew, worked diligently throughout the year to transform the room, beginning with the floor and working until it had achieved the cozy look necessary for the intimacy of the series.
You're very close to the music, maybe closer than some musicians are comfortable with. You hear their breathing; you hear the bow sounds
The series title is Small Batch, which is meant to convey that live music — like spirits — is crafted over a long period of time, but enjoyed in the span of a brief moment.
Stoltz's Small Batch co-creator is Russell Podgorsek, the Butler School's building manager as well as a lecturer in composition. Podgorsek explains that the development phase was an exploration of what was missing in the whole of Austin, not just at the school:
"We asked ourselves, 'What does the Austin new music scene not need?' And so this is a recital space for things that are not strictly concert music: storytelling, genre-mixing, etc. There are plenty of more-or-less traditional concert series at galleries, a growing number of events at bars/pubs, and then there's the pop music scene that everyone knows so well. But Austin is a hub for a number of arts and a lot of 'performances' need a more intimate space to be most effective."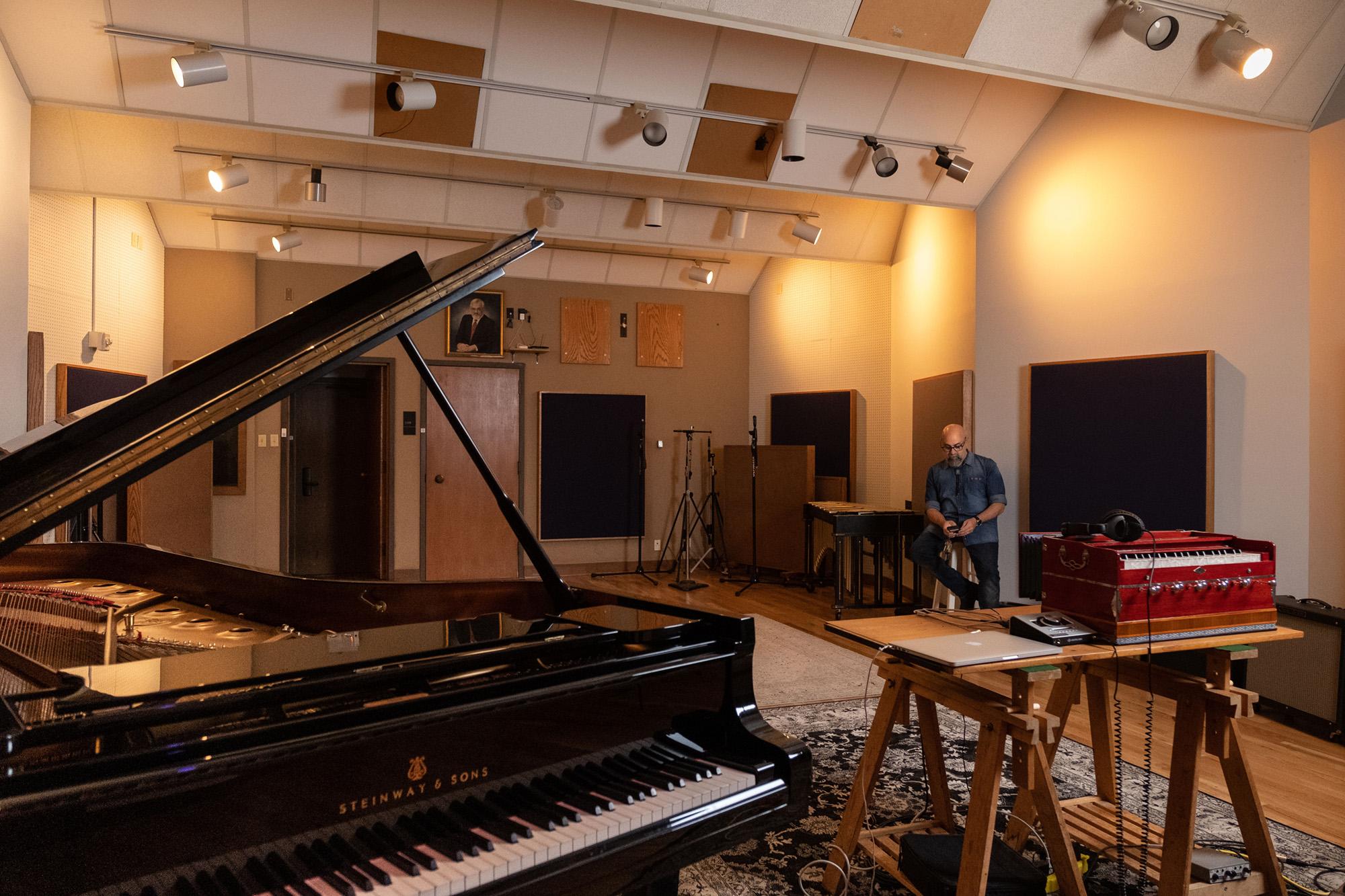 Stoltz adds, "You're very close to the music [in the Live Room], maybe closer than some musicians are comfortable with. You hear their breathing; you hear the bow sounds."
Most importantly, they want this space thought of as an opportunity, as there's nowhere else on the UT campus to perform interactive projects with their level of audio and visual documentation. Podgorsek calls it "not only a series, but also a developing archive." They plan to charge only $15 for tickets — just enough to compensate the artists and maintain the recording studio.
Beginning by imagining it as a self-supporting take on NPR's Tiny Desk Concert series, they completed pilot sessions in Spring 2019 featuring Professor Sophia Gilmson, a D.M.A. recital by violinist Sean Riley, and an electronic music set by Neil Rolnick. The 2019-2020 series season is already plotted for fall and winter, with Podgorsek's chamber opera The Two of Swords — a partially staged, quasi-interactive piece that unfolds like a tarot reading — kicking it off on October 12 with the Invoke string quartet; Page Stephens, mezzo soprano; and Lena Hill acting as the fortune teller. After that, the field is wide open for just about anything suited to the intimate space.
"A brass octet is not going to happen!" joked Podgorsek.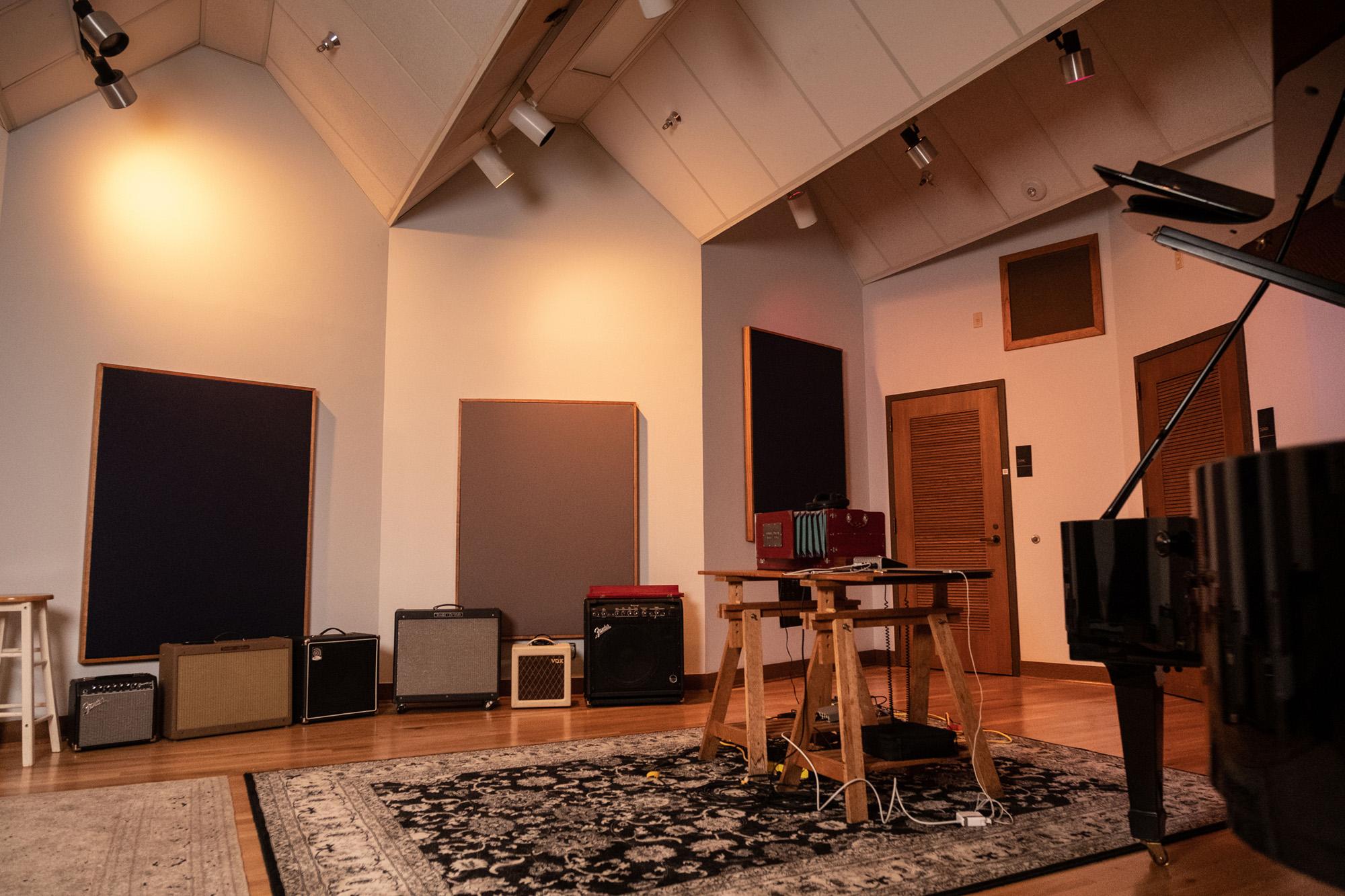 It's also worth noting that the performances have been conceived of as sets —hence the word batch — meaning that there will be two performances of the same project, not necessarily identical, on a given night. Seeming to clarify both the Small Batch series concept and his working relationship with Podgorsek, Stoltz said, "Have you ever seen the movie Twins? It's like that...but we're both Danny DeVito."
---
Starting in Spring 2020, the Small Batch Series will offer one opportunity per season for a student-driven project; calls for proposals will go out to the entire student body in Fall 2019. Tickets for the first series presentation, a chamber opera entitled "The Two of Swords," are now available for purchase.