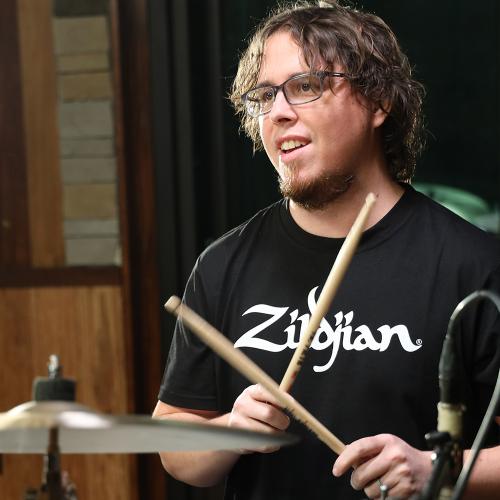 Specialist in Jazz Drum Set
Wayne Salzmann II is a drummer, educator, author, and composer based in Austin, Texas. He has been a member of the jazz faculty at The University of Texas at Austin as their Drum Set Specialist since 2010 and has given clinics and masterclasses worldwide. In addition to his extensive touring and recording experience with Grammy winning guitar virtuoso Eric Johnson and iconic songwriter Bob Schneider, Salzmann has also performed and/or recorded with Steve Miller, Kenny Rogers, Kris Kristofferson, Christopher Cross, Joe Satriani, Mike Stern, Robben Ford, Chris Potter, Dick Oatts, Bill Watrous, Diane Schuur, Bobby Shew, UT Jazz Faculty, San Antonio Symphony, and many others. He has hundreds of recording credits, including a Billboard no. 1 Jazz record, a Billboard no. 1 Blues record, and feature film soundtracks. His book Developing Melodic Language on the Drums has received high acclaim from legendary drummers Peter Erskine, Ed Soph, Carl Allen, John Riley, and from Modern Drummer Magazine. It also reached no. 1 for new releases in percussion books on Amazon in 2019. Salzmann recently released an educational course for beginning drummers called the Zildjian Drum Set Method. His drum studio from UT-Austin was also featured in Vic Firth's online educational series called Inside the Teaching Studio. He currently serves as a member of the Drum Set Committee for the Percussive Arts Society, and is an artist/clinician for DW Drums, Pedals, & Hardware, Zildjian Cymbals, Remo Drumheads, and Vic Firth Drumsticks.
Applied Drum Set 

Jazz Improvisation
Peer Reviews of Developing Melodic Language on the Drums:
"…an indispensable resource for developing your musical creativity."
-Ed Soph, UNT 
"The play-along tracks are excellent…the book paves the way for aspiring drummers to become more communicative and musical at the instrument."
-Peter Erskine, USC 
"…so comprehensive that it has something in it for everyone of all genres."
-Carl Allen, Juilliard
"…provides a systematic approach to becoming more melodic and has great play along tracks…"
-John Riley, Manhattan School of Music
"…utilizes many of the principals that I speak about in my own teaching.
-Adam Nussbaum, legendary jazz drummer
"…offers clear concepts that will allow you to connect to the song, and your fellow musicians, with more ease.
-Matt Wilson, The New School
"…guaranteed to help drummers develop a more authentic, melodic jazz vocabulary."
-Mike Dawson, Modern Drummer Magazine
Contact Information
Campus location
MRH 6.224
Teaching Areas
Jazz Drum Set