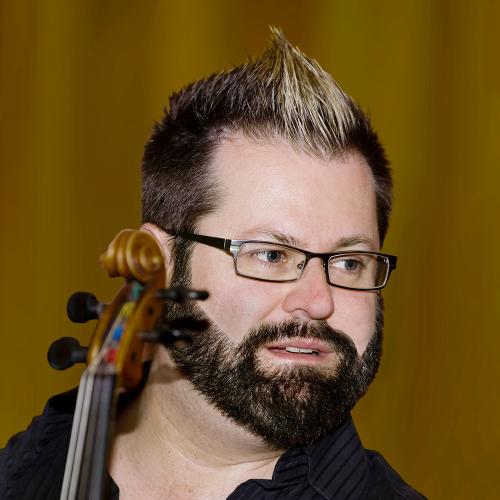 Roger Myers enjoys an impressive record of performing and teaching both here and abroad and has traveled widely presenting critically acclaimed concerts and master classes in countries on five continents including Austria, Norway, Portugal, Scotland, China, Australia, New Zealand, Canada, Brazil, Mexico as well as the U.S.A.  
He has taught in many prestigious summer festivals including the Music Academy of the West, Bowdoin Summer Music Festival in Maine, the Montecito Festival, Green Mountain, the International Festival Institute at Round Top, Texas, and the Marrowstone Music Festival. He served as the youngest ever Artistic Director and Host Chairman of the XXV Silver Anniversary Viola congress.
Roger Myers was born in Sydney, Australia where he played with the Sydney Symphony Orchestra while still a student. Later he studied with Donald McInnes at the University of Southern California.
Presenting solo and chamber performances hailed internationally, The Strad Magazine described his playing as possesing, "Consistently beautiful tone and unshakeable aplomb".  Roger Myers has given chamber music performances with such artists as Lynn Harrell, Sidney Harth, Suren Bagratuni, Yehonatan Berick, Michael Francis, Jorja Fleezanis, Daniel Heifetz, Alex Klein, Mark O'Connor, Ronald Leonard, Felicia Moye. In 2005 he enjoyed a successful Carnegie Hall debut.
Roger's recording, Fantasy and Farewell of works by Schumann, Shostakovich and Mclean on the Delos label with the London Symphony Orchestra acclaimed by the American Record Guide as "a masterpiece" was released in 2013. At the 2014 Global Music Awards the disc was awarded "Best of Show" and won two Gold Medals for Solo Instrumental Performance and Best Album. Roger Myers is a Fellow of the Royal Society of Arts in London.
His students are found in major symphony orcehstras and in the most prestigious conservatories, universities and summer festivals. Mr. Myers plays a beautiful J.B. Guadagnini viola made in 1763.
"McLean has a player's understanding of how best to present the viola in a solo role, and has written idiomatic passagework and sonorous cadenzas that Myers seizes gratefully, with consistently beautiful tone and unshakeable aplomb."                                             
Carlos Maria Solare, The Strad 
---
"This disc is not only a showcase for the talent and skill of violist Roger Myers, but also for the instrument itself.   During this program the viola journeys from autumnal to skittish and finally to introverted—moods where its plangent tones are clearly an asset … Myers himself is an expressive soloist, playing a Guadagnini viola made in 1763, which is warmly resiny in the lower and middle registers and strong in its upper register. I actually prefer his rendition of the Shostakovich to Mendelssohn's: Myers takes the first two movements slightly faster—highly effective in the biting scherzo—but adds a whole minute to the final movement, where he is the more searching and affecting of the two. Plus, the sound of the new recording is far superior."
Phillip Scott, Fanfare
---
 "The Londoners are lush in the McLean, light footed in the Schumann, and appropriately terrifying in the Shostakovich. Myers is a bold player, comfortable and deft across these varied concertos…Myers is a bold player, comfortable and deft across these varied concertos. He employs a gorgeous 1763 Guadagnini."
Grant Chu Covell, La Folia
---
"McLean's orchestration of Robert Schumann's Marchenbilder, Op. 113, is a masterpiece. The viola part remains exactly the same as the original (it was originally written for viola), and the orchestration seems informed by Tchaikovsky and Dvorak, in all the best violin-concerto-like ways  … Vladimir Mendelssohn's transcription of the Shostakovich Viola Sonata (the "farewell" in the release's title, because it was Shostakovich's last piece) is for solo viola, string orchestra, and celeste. The orchestration completely transforms the piece. It becomes more intimate in the intimate sections and more strident in the strident sections …  The Australian violist Roger Myers is an excellent player, and the London Symphony sounds spectacular."
American Record Guide 
---

"In Fantasy and Farewell, Myers performs with an infinite range of color and impeccable technique. He is accompanied by the London Symphony Orchestra under the baton of Michael Francis. Myers and the orchestra communicate seamlessly with each other, creating a powerful collaboration between chamber musicians rather than the stereotypical soloist battling against an orchestra … Myers's tone sparkles [in Schumann's Märchenbilder] as he converses with woodwinds and strings which play the roles of singing birds, dancing elves, and fluttering fairies. …  Myers outdoes himself with a nuanced performance of the [Shostakovich] third movement. He plays the beginning of the movement with a sublime, veiled tone. In a cadenza about three quarters of the way through the movement, he bypasses overt showmanship in favor of subtle, restrained fury.  At the end of the piece, Myers and the orchestra work beautifully together to portray a heartbeat as it gradually slows and "flatlines".  This album will make a great addition to any violist's collection."
The Contrapuntist
Contact Information
Campus location
MRH 5.112
Teaching Areas
Strings & Harp
Education
Master of Music
University of Southern California
Bachelor of Music
University of Southern California