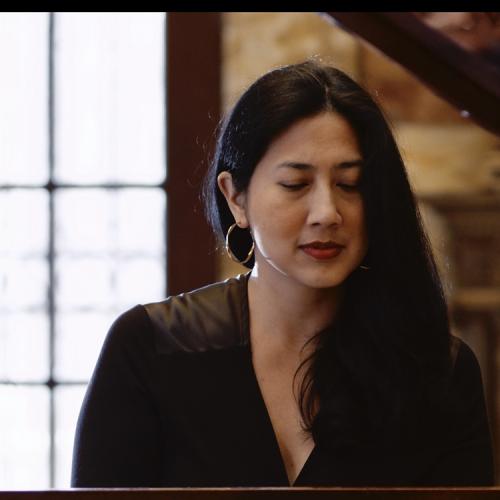 Born of Thai and Indian parentage, Marisa Gupta made her debut performing Prokofiev's 1st Piano Concerto with the Houston Symphony. She is the recipient of numerous awards, including top prizes at the Concours Maria Canals (Barcelona), the Viotti Competition (Vercelli), Corpus Christi and Kingsville Competitions, a Solti Foundation Award, a Fulbright scholarship , and many others. She was an Edison Visiting Fellow at the British Library (studying early chamber music recordings) and was a finalist for the BBC 's New Generations Thinkers Scheme, an initiative inviting leading British minds to broadcast on Radio 3.
She has appeared in prominent venues around the world: The Wigmore Hall, Concertgebouw, Palau de la Música,  South Bank Centre, Kings Place , The Bridgewater Hall,  LSO St. Luke's, Warsaw Philharmonic Hall, Ateneul Român, Zipper Hall, LACMA, Tokyo Opera City, and venues throughout Europe, Japan, and the USA. Her performances have been heard on BBC Radio and TV, Radio 4 (Netherlands), Ràdio Catalunya, KUSC and KUHF . Festival appearanaces include Rockport, Ravinia, Three Choirs Festival, Prussia Cove, Yellow Barn, and others. Marisa has worked with notable composers including Jörg Widmann, Brett Dean, Philippe Hersant, and David Matthews, and has given the US and UK premieres of works by Jean-Frédéric Neuburger, European premieres of works by Aaron Jay Kernis and Ned Rorem at the Wigmore Hall, and the world premiere of Rhapsodie by Philippe Hersant. Chamber music partners include Anthony Marwood, Philippe Graffin, Stephen Kovacevich, Nicolas Dautricourt, Tom Meglioranza, Geneva Lewis, Movses Pogossian, members of the Berlin Philharmonic, Bavarian Radio Orchestra, Philharmonia, Hallé, the Verona, Calder, and Doric Quartets, Nash Ensemble and others.
Marisa received the Diplôme de Soliste from the HEM Genève and a doctorate from the Guildhall School of Music and Drama. Mentors include John and Nancy Weems, Horacio Gutierrez, Pascal Devoyon, and Richard Goode.
Marisa Gupta, DaCamera Society Los Angeles
Kinderszenen - Robert Schumann
Marisa Gupta
Haydn - Sonata in C Major, Hob. 50; Frederic Mompou 3 Variations; Chopin Preludes 1-8
Seven Signals by Brett Dean
Geneva Lewis, violin; Yoshika Masuda, cello; Sérgio Coelho, clarinet; Marisa Gupta, piano
Piano Quintet, Op. 57 by Dmitri Shostakovich
Movses Pogossian & Geneva Lewis, violins; Jonah Sirota, viola; Michael Kaufman, cello; Marisa Gupta, piano
Amy Beach, Romance
Geneva Lewis, violin; Marisa Gupta, piano
Benjamin Britten, Winter Words, Op.52 (1953)
Benjamin Butterfield, tenor; Marisa Gupta, piano
Contact Information
Campus location
MRH 4.158
Teaching Areas
Piano
Research Areas
Piano Chamber Music
Interpretation of Frederic Mompou's Piano Music
Changing Performance Styles in the Age of Recording
Areas of Assistance
Staff & admin based
Operations
Scheduling
 
Education
Doctor of Music
The Guildhall School of Music and Drama
Diplôme de Soliste
Haute école de musique de Genève
Master of Music
Royal Academy of Music
Bachelor of Music
The University of Houston