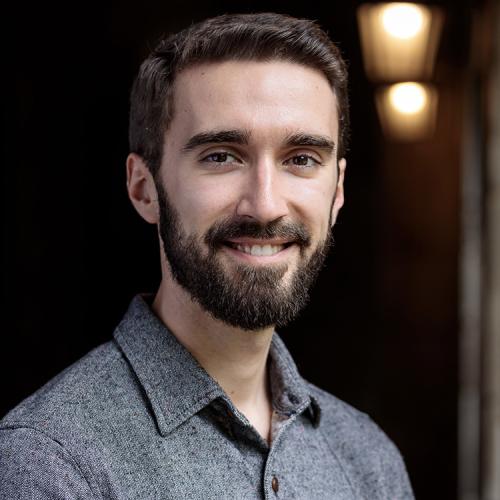 Visiting Assistant Professor of Music Theory
George Adams received his PhD from the University of Chicago in 2019. Prior to arriving at the University of Texas, he was the Lindsay Family Postdoctoral Teaching Fellow in the Department of Music, the Division of the Humanities, and the College at the University of Chicago, where he taught courses in music theory, music history, media, and aesthetics; for the past several years, he has also advised research projects across the humanities and social sciences as part of the Mellon Mays Undergraduate Fellowship program.
His research interests include form, ecology and relation, experimental and conceptual music, performance, sound, technology, and genres of American music. He is currently completing an article on ecologies of form in Janelle Monáe's "Say Her Name (Hell You Talmbout)." His developing book project, very tentatively titled Listening for American Music: Technology, Form, Analysis, explores how expanded notions of form can illuminate the intersections of sound, musical technologies, and social relations, and how American experimental and popular genres prompt us to apply these intersections in the ways we listen to and analyze music.
MUS 388T
Analytical Techniques
MUS 411A
Ear Training and Sight Singing
 
"Minimalism and Musical Variation." In The Oxford Handbook of Musical Variation, edited by Jeffrey Swinkin. New York: Oxford University Press, [forthcoming].
"Maryanne Amacher's Musical Technologies." Society for American Music annual meeting: online (2021).
"Voice, Technology, and Agent-Classes in Steve Reich's Tape Works." Society for Music Theory annual meeting: Columbus, Ohio (2019).
"Julius Eastman and Expressions of Objectivity in American Minimalism." Society for Minimalist Music annual meeting: Cardiff, Wales (2019).
"Technology, 'Objecthood,' and the American Minimal Moment." Northwestern University Music Theory and Cognition Colloquium: Evanston, Illinois (2018).
"'Because They Didn't Know How to Listen': On the Formal Analysis of Conceptual Music." Formalism and its Discontents, an Interdisciplinary Conference at Rutgers: New Brunswick, New Jersey (2017).
Contact Information
Campus location
MRH 3.748
Teaching Areas
Theory
Research Areas
Experimentalism
Form and Relation
Sound and American Music
Education
Doctor of Philosophy
University of Chicago
Bachelor of Arts
University of New Hampshire