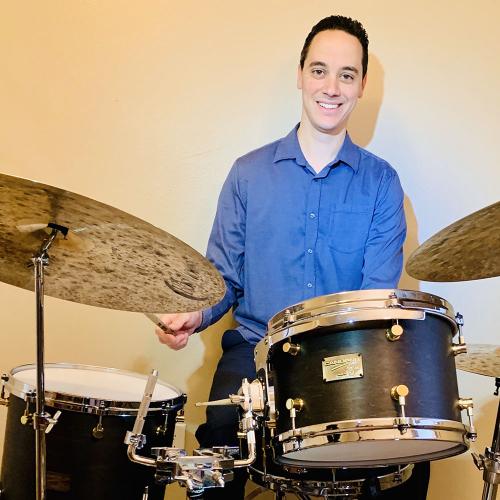 Specialist in Jazz Drum Set
Dr. Fabio Augustinis is a drummer, percussionist, educator, composer, and producer based in Austin, TX. He holds degrees in music from The University of Texas at Austin, The University of Iowa, and The State University of Campinas (UNICAMP), Brazil.
Dr. Augustinis was the recipient of the Eleanor Stribling Award for Excellence in Jazz Studies in November 2020 at UT - Austin. Originally from São Paulo, Brazil, he has recorded around 30 albums and has had the opportunity to record and perform with Nailor "Proveta" Azevedo, Ivan Vilela, Teco Cardoso, Léa Freire, André Marques (Hermeto Pascoal), Tibô Delor, and others.
In 2010 he won the first prize of a drum-set competition in Tatui (SP), overtaking more than 50 players, which gave him a scholarship to study for a week with the Grammy award winner Edu Ribeiro (drummer of Trio Corrente). Dr. Augustinis was also elected the best performing musician of that festival. In 2012, with the "Rafael de Lima" Quartet, won the nomination for the best original college composition published by the Downbeat Magazine. In 2012, he presented a workshop about Brazilian music at The University of Miami (FL) and in 2015 had the same opportunity, this time at the College Conservatory of Music (University of Cincinnati - OH). 
In The United States, he has had the opportunity to play with several musicians, such as Jiggs Wigham, Steve Davis, Joe Lovano, Jeff Hellmer, Ernie Watts, Brian Lynch, Melvin Butler, The Des Moines Big Band, Andre Hayward, Damani Phillips, John Rapson,  and many others.
In the Spring of 2018 Augustinis released his debut album as a composer, entitle Sunrise. The album features all original compositions and arrangements by the drummer. Dr. Augustinis and his groups play extensively throughout Texas. Dr. Augustinis is an endorsing artist for Canopus Drums and Bosphorus Cymbals.
Contact Information
Campus location
MRH 6.224
Teaching Areas
Jazz Drums
Education
Doctor of Musical Arts
The University of Texas at Austin
Master of Arts
The University of Iowa
Bachelor of Music
State University of Campinas