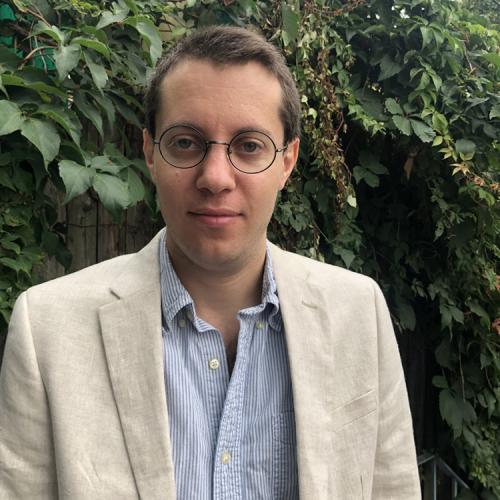 David Hier was born and raised in Toronto, Canada, where he studied piano with Bella Asmarian, counterpoint with William Shookhoff, and composition with Larysa Kuzmenko. Hier attended McGill University and earned bachelor's and master's degrees in music composition, studying under Jean Lesage and Christoph Neidhöfer. He received his PhD in Music Theory at the Eastman School of Music, where he studied under Henry Klumpenhouwer and Zachary Bernstein.  Prior to joining the faculty at UT Austin, Hier taught at the William Paterson University of New Jersey, and at the Eastman School of Music, where he was a finalist for the Teaching Assistant Prize.
Hier has lectured on the music of Arnold Schoenberg, Roger Sessions, and Wolfgang Rihm at the Arnold Schoenberg Institute in Vienna, Austria, the European Music Analysis Conference in Strasbourg, France, and at various regional theory conferences in the US, including the Texas Society for Music Theory, the Music Theory Society of the Mid-Atlantic, and the Music Theory Society of New York State.  Hier will present a paper on Schoenberg's atonal music at the upcoming national meeting of the Society for Music Theory in 2021.
Hier's music has been played in Canada and the United States by ensembles including the Lincoln Trio, the Transmission Ensemble, and the Tetra String Quartet. His Song of the Night for piano trio (2012) placed second in the Sejong Composition Competition and his String Quartet in D (2019) received an honorable mention in the John Eaton Memorial Composition Competition. A set of orchestral songs is set to be premiered under conductor Justin Pambianchi in the winter of 2021 in Montreal, Canada.
MUS 321J
Twentieth-Century Music Analysis
MUS 325L
Counterpoint
MUS 325M
Counterpoint
MUS 368L
Review of Music Theory
MUS 388T
Analytical Techniques
Contact Information
Campus location
MRH 3.712
Teaching Areas
Theory
Research Areas
Arnold Schoenberg
Atonal Music
Chromatic Tonal Harmony
20th-Century American Music
New Simplicity
Timbre and Orchestration
Education
Doctor of Philosophy
Eastman School of Music
Master of Music
McGill University
Bachelor of Music
McGill University