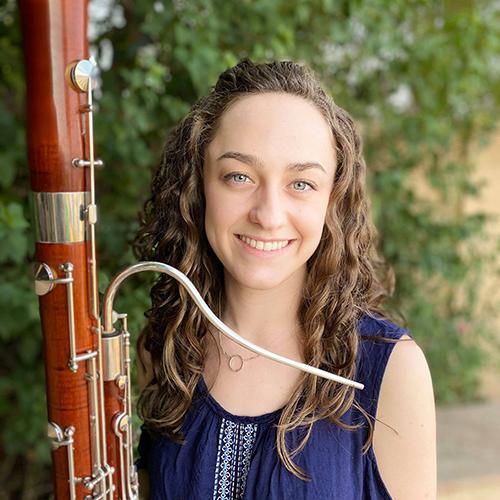 Teaching Assistant, Bassoon
Brigit Fitzgerald is a performer, student, and teacher in Austin, Texas. She studies with Kristin Wolfe Jensen at the University of Texas at Austin, where she is a doctoral student and teaching assistant. In 2021 Fitzgerald was selected to be the Principal Bassoonist of the Victoria Symphony Orchestra in Victoria, TX, under the direction of Maestro Darryl One. As a soloist, she has performed concerti with the Phoenix Symphony in 2015 and the Vanderbilt University Orchestra in 2019 as the winner of respective competitions. She has studied chamber music at the Sarasota Music Festival and in Aix-en-Provence, France with members of the Berliner Philharmoniker, and orchestral studies have taken her to the Aspen Music Festival, Hot Springs Music Festival, and Boston University Tanglewood Institute.
Her current research includes the development of an affordable and long-lasting synthetic bassoon reed. The team working on this project received a 2020 Rainwater Innovation Grant, the Dr. A. Bruce Buckman Endowed Innovation Scholarship Award, and selection as finalists for the Kendra Scott Female Founder Pitch Competition.
Fitzgerald previously studied with Peter Kolkay at Vanderbilt University and received a Bachelor's of Music in bassoon performance and mathematics, with a minor in scientific computing. Upon graduation she received the Elliott and Alisa Newman Award for Excellence in Woodwind Performance and Vanderbilt's most prestigious graduation honor – the Vanderbilt Founder's Medal for first honors in the Blair School of Music. She continues to apply her math degree by taking graduate courses in physical acoustics and working as a teaching assistant for UT Austin's course in musical acoustics.
Contact Information