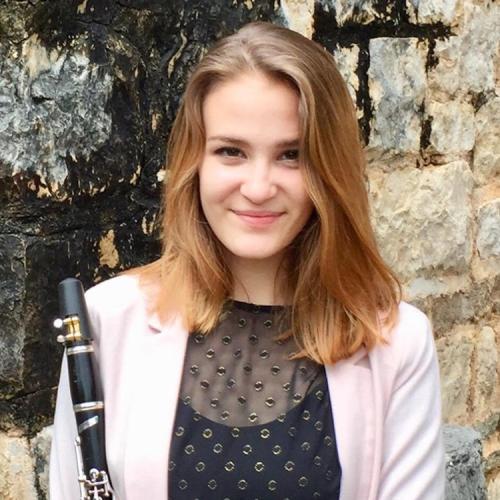 Assistant Instructor of Clarinet
A native of central Pennsylvania, Abbey Young is a clarinet performer, teacher, and doctoral candidate. Abbey earned a Bachelor of Music degree from Indiana University, where she was awarded the Merle Evans scholarship and the Premier Young Artist Award. After four years of study with Professor Howard Klug, she graduated from the Jacobs School of Music and Hutton Honors College with high distinction.
In 2018, Abbey moved to Austin to pursue her Master of Music degree. During her graduate work, she has enjoyed playing in UT's Wind Ensemble, Symphony Orchestra, New Music Ensemble, Hispanic Caribbean Ensemble, and Klezmer ensemble. She has also performed with the New York City-based Paragon Ragtime Orchestra, Texas Festival Orchestra, and contemporary chamber orchestra Density 512. In fall of 2019, Abbey began working as Teaching Assistant to Professor Jonathan Gunn, a position she held for two years. She currently serves as Assistant Instructor of Clarinet, teaching some of the undergraduate students in the clarinet studio while pursuing her Doctor of Musical Arts degree.
Abbey and her husband, Levi, live in a unique community on Austin's far east side. Community First! Village is a development of tiny homes and RVs that offers permanent housing and a supportive community to those coming out of long-term homelessness in Austin. Though the Youngs have never experienced homelessness, they live in the village in support of its mission. Here, she leads the Pure Goodness Music Collective, providing musical opportunities to those living at Community First! Village. In 2021, Abbey was awarded two grants: a Rainwater Innovation Grant and the Presser Foundation Graduate Music Award. These grants funded musical instruments, recording gear, recording studio time, and video production for her neighbors. Her recent project, Songs of the Unheard, gives a platform to musicians who have experienced chronic homelessness.
CLA 210
Lower-Division Clarinet: Principal
 
CLA 312
Lower-Division Clarinet: Major.
 
Contact Information
Campus location
MRH 5.280
Teaching Areas
Clarinet
Education
Master of Music
The University of Texas at Austin
Bachelor of Music
Indiana University